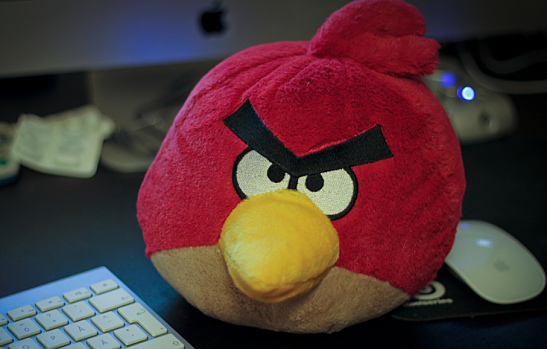 The Angry Birds app was one of the first real breakout hits for smartphones, and game company Rovio has high hopes for the fourteenth entry in the series. Rovio's Angry Birds Go is a big departure from recent titles, and reinvents the franchise while still maintaining some of the unique charm that made the first game so memorable. 
The Angry Birds Hit the Road
In Rovio's Angry Birds Go, the birds and piggies have a new objective: to win go-kart races. The game is patterned after Nintendo's popular Mario Kart series and sees familiar characters hopping into customizable karts and using unique powers to gain advantages over other racers. Angry Birds Go also has a variety of tracks themed to various environments in the Angry Birds universe that users can unlock by finishing races and earning in-game currency. 
In addition to the new format, Angry Birds Go is the first entry in the franchise to have 3-D visuals. While the original Angry Birds featured a minimalist 2-D look, Rovio's Angry Birds Go has a dynamic visual style that makes it one of the best-looking titles for mobile platforms this season. 
Free-to-Play Model Ruffles Feathers
Another first for Angry Birds Go is the free-to-play model. Though Rovio has included paid in-app purchases before, they've never offered a true free-to-play experience, and some players aren't happy about the switch. Everything from kart upgrades to new characters can be unlocked via in-app purchase, and some have complained that the pricing for the paid upgrades is too high and unfair for those who want to pay $1 or $2 and have a full game experience, which previous Rovio titles offered. IGN notes that one-third of early reviews have been negative, citing the lack of free content and high prices of upgrades. 
However, Jami Laes, Rovio's executive vice president of games, doesn't see a problem with the amount of paid versus free content. "As with every previous Angry Birds game, there's lots of free content and we have great new updates already planned — including the eagerly awaited arrival of multiplayer," she said in a statement.
Even though Rovio's Angry Birds Go was only released yesterday, the game has already rocketed to the top of the free games chart on Apple's App Store. Despite concerns about its in-app-purchase model, it looks as though fans are still willing to try this game for their Angry Birds fix. Will you be doing the same?
Image courtesy of Flickr
[cf]skyword_tracking_tag[/cf]
Comments
comments