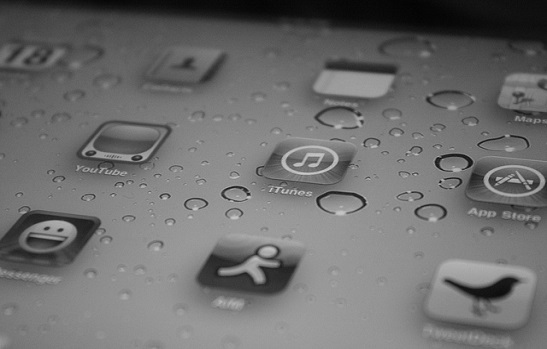 Search marketers and webmasters have developed a habit of following Google's search algorithms. It's a sound practice to adopt because the slightest tweak can cause dramatic shifts in visibility and traffic results. App developers have adopted a similar routine, and Apple has given them yet another reason to stay on their toes.
Apple has once again made significant changes to the app store search algorithms on iTunes, according to Apple Insider. The changes reportedly took place between December 11 and December 12 and were first noticed by MobileDevHQ, a firm that sells Software-as-a-Service (SaaS) marketing solutions to mobile app publishers.
The recent tweaks have resulted in iOS apps moving an average of 41.5 positions in search rankings for specific keywords, Apple Insider reports. That's eight times the average ranking change iPhone and iPad apps see on a typical day, which was previously only five positions. The report mentioned that users were most likely to notice differences in the rankings for apps that previously fell within the top five results of any keyword, as 31 percent of keywords were affected by the changes. Before Apple overhauled its system, only about 8 percent of those apps changed positions on a daily basis.
MobileDevHQ put together a chart that illustrates how the changes have affected certain apps. While some apps didn't experience much of a change, others saw major shifts. Wells Fargo Mobile moved up 144 positions, a 52 percent increase, while Rdio moved up 43 spots, a 45 percent change. Chase Mobile and Realtor.com also saw changes of more than 50 percent.
The Quest for Better Discoverability
Making changes to app store search algorithms is not new territory for Apple. According to TechCrunch, the company made a tweak back in November that produced better results in instances where search queries contained minor typos. This particular update was made for the benefit of users who may have known what they were looking for by name, yet were unsure about small nuances such as spaces in the app title. "That's great news for app publishers and yet another step in Apple's efforts to improve app discoverability," said Craig Palli, chief strategy officer for app marketing company Fiksu.
In August, TechCrunch also reported that Apple was testing changes that looked to factor engagement into the app store ranking system. The report was built around a trend identified by Fiksu who, in July, noticed that apps with four and five star ratings were positioned higher in the rankings. On the other hand, the firm observed apps with less than three stars declining in the rankings, despite maintaining consistent downloads, which was once identified as one of the main factors Apple considered when determining the positioning of app results.
Developers and publishers have been trying to figure out Apple's app store search algorithms since the beginning of time. It's worth the headache because the easier an application is to find, the greater the awareness, engagement, and revenue potential for the creator. App store searches are largely built around keywords, but the more tweaks Apple makes to its algorithms, the more savvy app owners must factor popularity, engagement, and other newly introduced components into their optimization strategies.
Apple has certainly shaken things up with the latest round of algorithm tweaks, do you think it has improved the user experience?
Image Courtesy of Flickr
[cf]skyword_tracking_tag[/cf]
Comments
comments