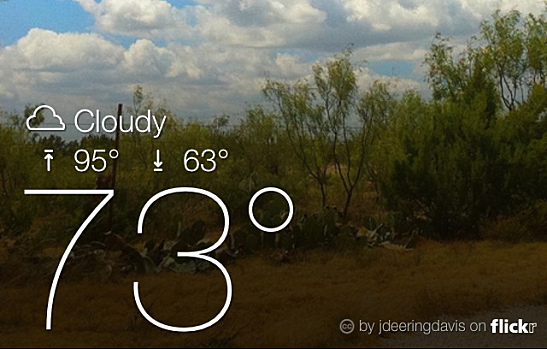 Yahoo's iOS weather app made a splash when it was first released on the iPhone, both for its utility and sophisticated design. However, fans were disappointed that there was no iPad app at the time that could match the iPhone offering. Fortunately, Yahoo recently released a version of its weather app for the iPad that manages to outshine its predecessor, both in design and display, TechCrunch reports. The app takes advantage of the iOS 7 aesthetic, blending in so seamlessly with the operating system that it could be mistaken for a native iPad weather app.
Elegant and Simple Design
Much like the iPhone version of the Yahoo iOS weather app, the iPad version's minimalist style displays current conditions over a background image sourced from Flickr. Simply booting up the app will bring up an image that will let users know whether they need to bring an umbrella or extra sweater with them to work. Moving the screen around and scrolling up or down will reveal more detailed information.
The iPad version of the app displays a lot more information on its home screen than its iPhone counterpart, but avoids appearing cluttered due to its smart use of clickable and expandable elements. The app makes use of the iPad's greater screen real estate with animated elements, explained Adam Mathes, director of mobile weather product management at Yahoo, in an announcement posted on the Flickr Blog. "You'll immediately see a smart summary of weather data along with curated photography," Mathes said. "As you scroll, forecasts, graphs, and weather data delightfully animate with every interaction. Watch as raindrops fall, clouds move in, and the sun rises."
More Features for Advanced Users 
If you need more information than what is displayed automatically, the app allows you to scroll down for a detailed forecast, which includes details like wind speed, precipitation levels, weather warnings, humidity, visibility, UV index, and access to animated maps. All of these extra details are easy to find and beautifully integrated into the app's minimalist interface. 
The iPad version of the app also includes a sharing function that allows users to share a snapshot of current conditions, including a photo, on social media or via an email or a text. Shared weather clips can include as much or as little information as desired, and are completely customizable. Power users can also set alerts to let them know when certain weather conditions are forecasted. 
Are you interested in downloading Yahoo's new iPad iOS weather app, or do you already have another weather app that you like to use? 
Image courtesy of Flickr 
[cf]skyword_tracking_tag[/cf]
Comments
comments