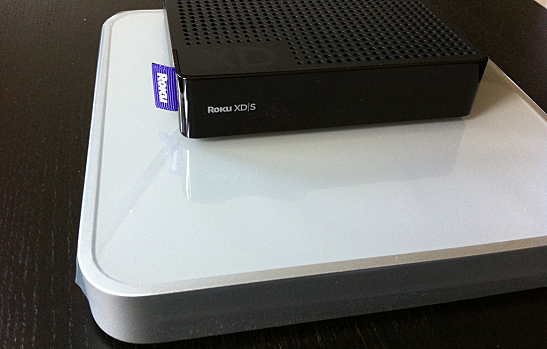 Over the past year, Apple's Apple TV "hobby" project has grown 23 percent in the past 12 months, according to a recent study by research firm NPD, Apple Insider reports.
Apple Insider says that Apple TV and Roku "together dominate the third party set-top box market with approximately 80 percent between them." With Apple's share growing 23 percent this year, that's not bad for a hobby. The fact that the company has not updated the Apple TV hardware in two years may cause some to think the aging device will not keep up with consumers' desires, but Apple is providing owners with regular software updates to keep the device relevant in the changing market.
Apple's product is powerful and useful enough to keep customers coming back for more, as evidenced by its recent growth spurt in consumer purchases. As NPD analyst Benjamin Arnold explains, "People buy Apple TV because they want to solve a problem — they want to get content from the small screen to the big screen." It appears that software updates, to this point, are doing the trick.
Wireless Connectivity
Apple's system works by transferring information from the Internet to a home television. Users can connect it directly to the Internet, or they can take advantage of wireless streaming sourced from other Apple devices. A viewer can use an iPhone or iPad to wirelessly connect with Apple TV and transfer information from a smartphone or tablet directly to the television. Almost any of the company's products can interact with the set-top box to create a full in-home multimedia experience.
The Rumored Apple Television

Rumors have been circulating for some time about the creation of a dedicated Apple television set. According to Apple Insider, Arnold believes Apple will not move in that direction any time soon. He points to software updates for the Apple TV, and mentions that focusing on content, rather than hardware, is important now for the company.
Mac Rumors says Apple sent mixed messages over the past few years about its interest in the television hardware game, quoting CEO Tim Cook, who in 2011 said that Apple had "no interest being in the TV market." However, the site mentions that the company was testing television designs in late 2012.
Rumored television sizes have ranged from everything between 45 inches and 65 inches, with some sporting "Ultra HD" pictures. Voice control through Siri and gesture control could replace the traditional remote.
Most recently, speculation has died down after an Apple television was not mentioned at the most recent product launch, and remains only a rumor at this point. Apple's set-top-streaming box is currently working well for the company. Apple is concentrating more on content and less on hardware, and for now that appears to be the correct course.
Image courtesy of Flickr
[cf]skyword_tracking_tag[/cf]
Comments
comments