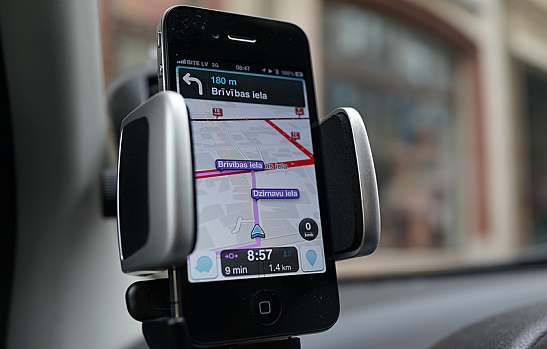 Apple released a second beta version of its most recent iOS 7 beta update Friday to a select few pre-registered developers, and a certain feature has captured a lot of interest. In the Settings section of the updated version, there is now an option for turning on or off a "Car Display" feature that currently seems to not have a use. According to 9to5Mac, "Apple says that iOS in the Car will formally launch in 2014 with several car makers," and the recently released beta seems to be preparing the phone for the release.
iOS in the Car
iOS in the Car is an initiative aimed at taking phone and car integration to the next level. More than just existing as a stereo for the iPhone, the car console has the potential to act as a second display screen, allowing several new function possibilities. This requires more than just a USB connection, so Apple is working with a select few car manufacturers to create iPhone-friendly consoles to facilitate iOS in the Car. The idea is that once the iPhone is plugged in, the screen will be displayed on the car console screen, which will provide options for users to control maps, messages, and music directly. This will require upgrading current technologies like Apple Maps, which 9to5Mac has stated will run as an "optimized, redesigned version" of itself when opened on the car's display instead of on the phone.
Standardizing iOS in the Car
The question remains as to whether iOS in the Car will catch on as a popular function for cars. Apple is launching it through a few specific car makers, and 9to5Mac speculates that some of these may include those who last year worked with Apple to integrate Eyes-Free Siri with a few of their car models. Eyes-Free Siri allows the user to use Siri without turning on the iPhone display. It wouldn't be a stretch to assume that this was a mini field test to see how iOS in the Car would be received by consumers. While the iOS 7 beta update hints at some progress with iOS in the Car, CNET notes that "Apple's car integration launch could of course be pushed back, but it looks like the goal is to take the wraps off alongside the wide rollout of iOS 7.1." If they are right, then iOS in the Car may very well see a 2014 release date.
iOS in the Car is a responsible move by Apple, both toward increasing the functionality of the iPhone and making phones safer to use while driving. Do you plan on using iOS in the Car when it is released?
Image courtesy of Flickr
[cf]skyword_tracking_tag[/cf]
Comments
comments