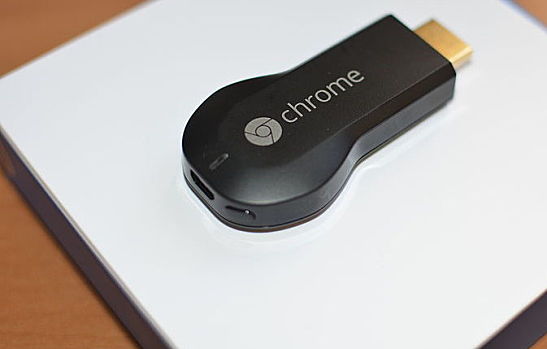 Google is working to ensure consumers consider the Google Chromecast dongle to be more than just a $35 screen-sharing tool. According to a new report from Gigaom, Google is moving towards making the Chromecast name synonymous with streaming content, fast-tracking streaming apps in "waves" and planning to release Chromecast source code to allow anyone to develop for the platform.
Lofty Goals 
Google's Chromecast ambitions involve more than just rolling out apps. Priority number one for Google is getting Chromecast in as many homes as possible, and using the ever-expanding list of "Chromecast Compatible" apps to make the low-cost device as alluring for consumers as possible. The first stage of this challenge is releasing apps in large batches, the first of which was released a few days ago and includes apps like Plex, RealPlayer Cloud, and Revision3, according to Information Week.
According to Google Vice President of Product Management Mario Queiroz, the end goal is for consumers to expect any given app to be automatically compatible with the streaming device. In the Gigaom article, Querioz said "There will be an expectation from consumers that any and every app will be 'castable,'" and went on to say that Google intends to meet that challenge.
As Google Chromecast grows its library of apps, Querioz hinted at an even larger goal that reaches beyond the Chromecast device itself: a full Chromecast ecosystem that could be exported to other devices. "Our broader goal is for Google Cast to be established as a standard," Queiroz said. Although Queiroz stopped short of mentioning any specific manufacturers or devices Google may be looking at, this could have far-reaching implications, especially as smart TVs become the norm and the need for add-ons like Chromecast and Apple TV become less necessary.
User-Made Apps Coming Soon
One of the most exciting developments surrounding the Chromecast before it was launched was its open-source code, which would allow anyone to develop apps for the service. Unfortunately, Google has yet to release the software development kit (SDK). A preview of the SDK was made available to developers when Google Chromecast was first launched, but developers were only allowed to build, not distribute, apps they had created.
However, according to Queiroz, the final version is close, as 40 developers from 30 companies were recently invited to try out the most recent version of the Chromecast SDK and give feedback to shape the final version. Though there is no firm release date yet, these are certainly encouraging developments for those hoping to see user-made apps debut on the system in the near future.
Are you looking forward to user-made apps on the Chromecast?
Image courtesy of Wikimedia Commons
[cf]skyword_tracking_tag[/cf]
Comments
comments