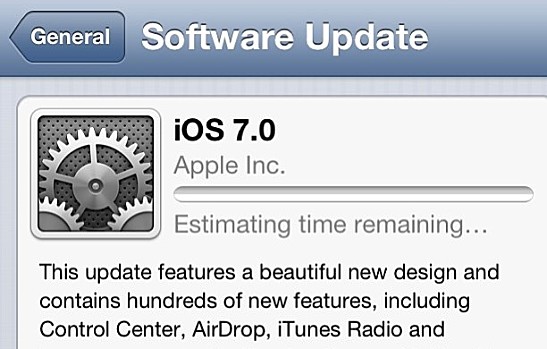 Apple will no longer allow new or updated iOS apps to publish to the App Store if they have not been optimized for iOS 7 beginning February 1, 2014, Macworld reports. Though Apple will not prevent developers from submitting versions of their apps for iOS 6, all new apps will be required to fully support the new native interface and upgrade to iOS 7's programming language.
Getting Developers up to Speed
When iOS 7 was first released, app makers eased into the development process because much of the iOS 6 code remained supported by iOS 7. Developer liaison David Duncan was quoted by Macworld as saying that, when iOS 7 was released, most apps had some iOS 7 functionality "while still looking like an iOS 6 app." As more users upgrade to iOS 7, Apple has begun to push a bit harder to get apps to the point where they are fully integrated into the new ecosystem. This rule change is the biggest push yet to bring app makers in line with the iOS 7 standards.
What Does This Mean for Current Apps?
Existing apps will be able to stay in the App Store, but developers who want to publish an update will have to ensure that iOS 7 compatibility is part of the structure. Though this may seem like a harsh way to push developers to upgrade to iOS 7 standards, Apple is likely using this new rule change to trim the number of apps that are built on the old iOS 6 standards, which have been phased out. 
It is important to remember that there's no rule saying that updated apps absolutely have to use Apple's clean-line aesthetic. Updating an app to be compatible with iOS 7 may only require changing the underlying construction of the app so that it optimized for the new OS. Things like keyboard design and app icon don't necessarily have to change, those elements are left to the developer. 
The iOS 7 system is the fastest-growing operating system in Apple's history, with more than 76 percent of iOS users currently using it, according to ArsTechnica. Not only will this move put the final nail in the iOS 6 coffin, but it will also improve stability across the board and ensure all apps are designed to work with iOS 7, reducing compatibility hiccups due to version inconsistencies. 
Are you excited about the requirement to make all apps compatible with iOS 7, or do you think that this development places an unnecessary burden on developers?
Image courtesy of Flickr
[cf]skyword_tracking_tag[/cf]
Comments
comments