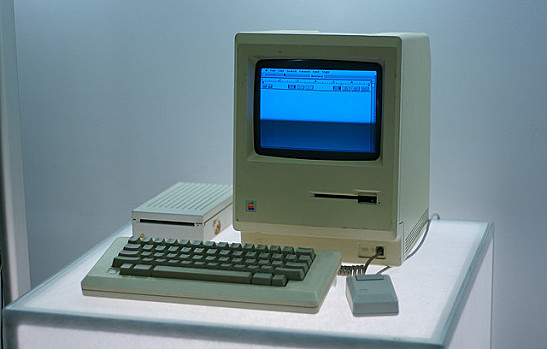 With the 30th anniversary of the Macintosh approaching, it's easy to forget that it has only been a few short decades since the Macintosh was first released as a competitor to IBM's PC back in 1984. Today the Apple brand is so prevalent in society that it's difficult to imagine a world without iPhones or iPads. The world will have the opportunity to relive this journey on January 25 at a celebration commemorating the 30th anniversary of the Macintosh.
Enter the Macintosh
When the Macintosh was released, it was a response to the very pragmatic design of the IBM computer, which was at the time the most popular computer model. CNET quotes Steve Jobs, who threw down the gauntlet during the Mac's unveiling back in 1984: "Apple is perceived to be the only hope to offer IBM a run for its money."
While IBM relied on using only the keyboard to control the computer with text-based commands, the Mac introduced the mouse and a graphics-oriented console that brought more than just a black screen and text to the personal computer market. The introduction of the mouse and the graphical user interface put Apple on the map as a pioneer in design and proved that computers could be used for more than just calculations. True to its beginnings, Apple is just as much of a technological pioneer today as it was when Jobs first unveiled the Mac.
The Celebration
All Planet Studios, Macworld/iWorld and the Computer History Museum will be hosting the 30th-anniversary event at the Flint Center in Cupertino, just a short distance from the Apple campus; it's fitting that this is the very same venue where Steve Jobs first introduced the Mac back in 1984. There will be several well-known guests, such as director Ridley Scott of Blade Runner and Alien fame, who is credited as the director for the famous 1984 Super Bowl ad that first announced the introduction of the Mac. There will also be several surprise guests at the event, according a statement from Gabreal Franklin of All Planet Studios. Tickets for the celebration of the 30th anniversary of the Macintosh are selling for prices ranging from $109.75 to $140.80 on Ticketmaster. All profits from the event will be donated to various charities promoting computer and Internet literacy.
It has been a long 30 years since the Mac was first released, and Apple has come far in that relatively short amount of time. But with technology's rapid speed of the development of new technologies, who knows what will be unveiled in the years ahead — it's even possible that Apple will be dethroned as the king of design during that time.
What are some of your fondest memories of Apple and the Macintosh line of computers?
Image courtesy of Flickr
[cf]skyword_tracking_tag[/cf]
Comments
comments