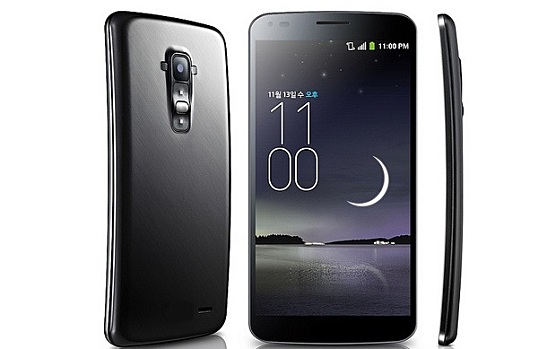 Following the release of curved YOUM screens on the LG G Flex and the Samsung Galaxy Round in South Korea, it was rumored that the new iPhone 6 and the Galaxy S5 would be the next in line to receive a curved screen. However, lackluster sales and production limitations have made manufacturers postpone the production of curved screens, according to CNET.
The Sales Record
The Samsung Round has sold only 10,000 units since its October release, and the G Flex is suffering from similar low sales figures, but CNET links this to a lack of appealing advertisements, rather than the actual features of the phone.
Dominic Sunnebo, global consumer insight director for Kantar Worldpanel, told International Business Times UK that "consumers love product innovation, but they need to be clearly told the benefits it will bring to them before they buy in." In short, consumers were not convinced that they could benefit from a curved screen. 
Further Down the Line
The sales record isn't curved screens' only problem. According to The Korea Herald, Samsung Display and LG Display are having difficulty supplying enough screens for the two existing curved phone models. Considering the relatively small production operations needed for the amount of G Flex and the Round phones currently on the market are already overextending resources, it's unlikely they will be able to supply enough screens in time for the 2014 releases of the iPhone 6 and the Galaxy S5. The companies reportedly plan to continue producing the screens, but are also evaluating other options. 
The Korea Herald quotes Kim Jong-hyun, an analyst at Seoul's Eugene Investment & Securities, as saying that curved screens "will be unveiled late next year as a Galaxy variant rather than as a flagship model." Apple, on the other hand, seems to be a little more reserved on the matter. John Seo of Shinhan Investment said that a curved display on an iPhone probably won't be released until at least 2015.
Consumers are always looking for the next new thing in popular technology, which helped fuel the success of products like the iPhone. This time that new thing might be the curved screen, but it will take at least a few more periods of trial and error before its success can be determined. 
Would you buy a Galaxy S or an iPhone with a curved screen instead of a flat one?
Image courtesy of Flickr
[cf]skyword_tracking_tag[/cf]
Comments
comments