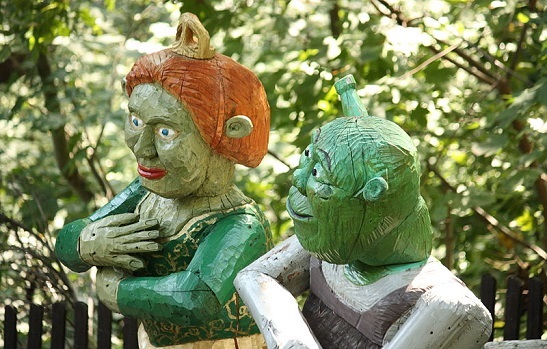 DreamWorks is venturing into the tablet-making business from the film industry, according to The Guardian. The production muscle behind hits such as Kung Fu Panda, Monsters vs. Aliens, and Shrek has reportedly teamed up with California-based manufacturer Fuhu to create the DreamTab Android tablet, a new device running Android 4.4 KitKat. The device's design is based on the nabi, an existing line of Fuhu tablets designed to help kids learn at home and in the classroom.
Education and Entertainment
Like the nabi products, the DreamTab is geared toward children. It will push exclusive DreamWorks content while retaining the learning element around which Fuhu has built its reputation. Educational content is delivered through features that support reading, writing, and mathematics across Fuhu's Blue Morpho interface, which lies seamlessly over an Android OS. Familiar characters are used to guide young users. For example, if parents impose a time limit, the animated movie character Shrek may pop up on the screen to let a child know that time is up.
DreamWorks' design includes features that exceed the norm in the tablet realm. One example is "Creative Studio Be an Artist," an app that teaches kids to learn to draw their favorite characters by watching videos from studio animators and following corresponding on-screen prompts.
Jim Mainard, head of digital strategy at DreamWorks, told The Guardian that these features "posed a compelling challenge . . . to our filmmakers and artists to create content for this new medium." He pointed to teamwork across the creative and engineering groups at DreamWorks as key.
While promoting its own content is a big part of the plan, DreamWorks will also feature content from some of its biggest rivals, providing convenient access to programming from Disney, Cartoon Network, and Nickelodeon. All DreamWorks content will be housed in a separate area of the interface.
Notable Mentions
The DreamWorks tablet isn't exclusively made for the SpongeBob crowd; it keeps older kids in mind with features that let them communicate via text and email to appeal to parents who are seeking a way to stay in touch with their children.
Near Field Communication (NFC) is also supported on the DreamWorks device, enabling the tablet to interact with characters from some of the studio's compatible line of toys. Competitors Disney and Activision are experimenting with a similar concept that merges physical toys and gaming in a cross-platform experience, Engadget reports. 
The DreamTab Android tablet is currently slated for a Spring 2014 launch. Headphones, cases, and other DreamWorks-branded accessories will also be available. Although no official price has been announced, the device is expected to sell for under $300, a competitive price in comparison to what's already on the market.
DreamWorks may be a blockbuster in the Hollywood realm, but it will surely have its work cut out in the mobile device sector. Does the DreamTab Android tablet stand a chance against established kid-friendly tablets like the LeapPad Ultra, ClickN Kids 7, and iPad Mini?
Image courtesy of Wikimedia Commons
[cf]skyword_tracking_tag[/cf]
Comments
comments