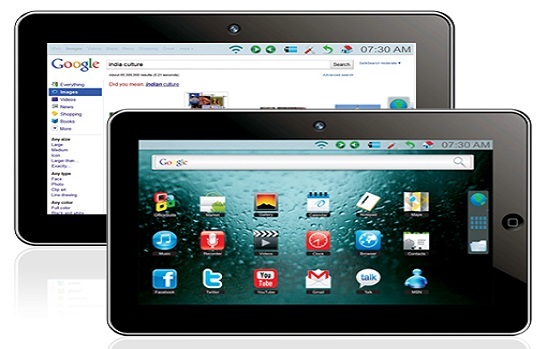 Audi announced the Mobile Audi Smart Display in-car Android tablet at CES 2014, USA Today reports. The Smart Display is a 10-inch device that boasts a full HD display and runs a Nvidia Tegra 4 processor. While it's optimized for automobiles, it is billed as smart device technology for passengers, not drivers.
With Android at the wheel, Audi's fancy new gadget has quite a few features that have become standard on the tablet market. That includes a built-in camera, apps, and Internet access through Wi-Fi. The Smart Display is tightly integrated into Audi's "infotainment" system and is essentially designed to give users control over the individual components. As a result, the radio, navigation, and climate settings can all be controlled from the custom interface that overlays Android.
Built for the Elements
Any device that serves as a travel companion needs to be durable to be road-worthy. The Smart Display is protected from sudden impact and extreme temperatures by an aluminum casing. A bulky build comes at the expense of some aesthetic appeal, however. The unit can be removed from a vehicle, but users may find the thick bezels and beefy diameter restricts mobility.
Driving Innovation
The mere concept of a tablet for the car is still a new development. "Innovation continues to be our guideline at Audi," said Audi Chief Technical Officer Ulrich Hackenberg in his CES presentation. Audi showcased new technology that integrates advanced touch and voice control for drivers, replaces traditional components with digital displays, and keeps the car's essential software and hardware elements up-to-date. The new Android tablet is a part of the company's enhanced vision to create a more interactive, intuitive, and efficient vehicle experience.
Audi is joining Google's Open Automotive Alliance program, an initiative geared toward bringing Android to vehicles. Also participating are GM, Honda, Hyundai, and Nvidia, the latter of which is using its chip technology to help bridge the gap.
The Future of Tablets and and Connected Cars
Leading chip maker Qualcomm endorsed connecting cars and tablets during its CES press event. NDTV Gadgets examines how improvements in operating system software has the company eyeing tablets for 2014. "Remember, we look at the market as a long game, so when we look at OSes and how they're doing and how we're progressing, we can be nothing but pleased with how we think that's setting up long term," said new Qualcomm CEO Steve Mollenkopf.
Qualcomm's Snapdragon 602a high-performance processor will work with the company's wireless technologies to offer passengers features such as web browsing, streaming video, and internet radio. "The next phase is the car is going to not only get connected to the internet, but it's going to be connected to other cars, and it's going to be doing a lot more sensing on what's going on in the environment, and making decisions as to what it's going to do," added Mollenkopf.
Will you embrace tablet technology in the car?

Image courtesy of Wikimedia Commons 
[cf]skyword_tracking_tag[/cf]
Comments
comments