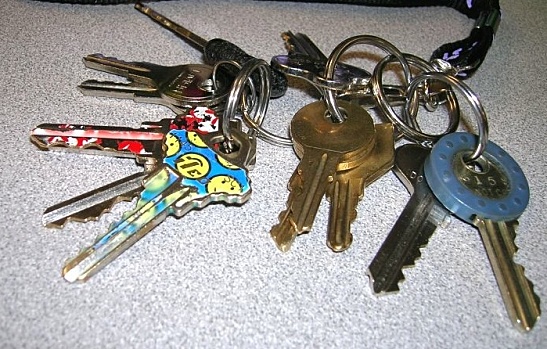 The Goji Smart Lock, which will allow homeowners to unlock doors with their smartphones, is set to be released in March, the company announced. Goji incorporates some unique features that make the new lock an interesting addition to the emerging smart lock market.
Electronic keys are available for both iPhone and Android devices. Keys can be scheduled to allow only temporary access or to allow recurring access at certain times on certain days. The owner can send a key to friends through a simple text message and can cancel a key when a user no longer needs it. Users can program their locks to open as they approach the door, obviating the need to dig through pockets or a purse to find a phone or keys. The owner's account, accessible by smartphone app, can be used to unlock a door remotely from within the house or elsewhere. The lock does this through Wi-Fi communication with the home network.
The Goji Smart Lock is currently available to pre-order for $278 for one lock or $525 for two. By comparison, heavy-duty deadbolts are generally available for about $35 each. According to an informational video from the manufacturer, installation can be easily performed by the user if the door already has a deadbolt in place.
Goji sells electronic fobs for $40, which function as an electronic key for children who do not have smartphones or as a convenient backup. The Goji Smart Lock also comes with metal keys for use in a manual keyhole hidden beneath the external cover as a backup should the electronics malfunction.
The lock takes pictures automatically every time someone approaches the door. If someone attempts to enter without a key, their picture is automatically sent to the account holder, who can grant access if desired. The Goji system also keeps a record of who enters at what time through unique codes in each key. This feature is marketed to parents as a means of keeping track of when their children arrive and leave.
The system uses Bluetooth or Wi-Fi to communicate with a smartphone. According to Goji, the Smart Lock's security is top notch and in accordance with bank industry standards, including "public/private key exchange, 256-bit encryption, and multiple layers of security to protect all components of our systems."
In at least one regard, such systems are certainly more secure than their mechanical counterparts: If a phone with a key is lost, the user can simply call Goji to have them turn off the key on that device. If it is never recovered, there is no need to get the locks changed.
What if the power goes down? The lock is battery powered, and will still perform its basic unlocking function when a key-in-a-phone approaches. However, other features that require the home Wi-Fi network, like remote unlocking, will not be available. It is unclear, but seems unlikely, whether a key could be canceled while the power is down.
How does it stack up against the competition? Competitors like Kwikset Kevo, Lockitron, and August Smart Lock all seem very similar to the Goji Smart Lock, but without the built-in camera. They are also significantly less expensive at $219, $179, and $199, respectively. The Kwikset Kevo is the only device that has hit shelves so far.
[polldaddy poll="7705152″]
Image courtesy of Flickr
[cf]skyword_tracking_tag[/cf]
Comments
comments