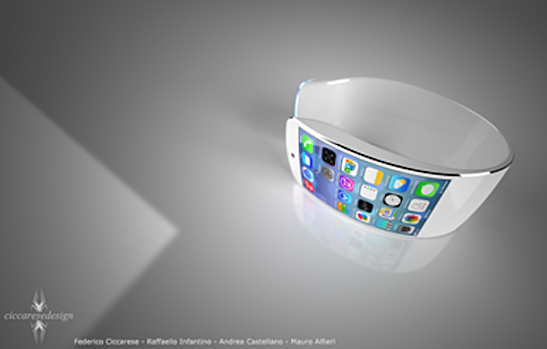 The Apple iWatch is rumored to launch sometime later this year alongside the iPhone 6. iWatch rumors have been circulating throughout the Apple ecosystem and tech news outlets over the past week, and hint that the device could be delayed due to some manufacturing set backs. The latest news that arrived via a Korean source points to some positive signs for the pending Apple device.
Rumors of an LG and Apple deal first broke ground back in October from the Korean Herald. The article claimed LG Display would become the second iWatch display supplier along with Taiwan's RiTDisplay. According to a recent report from the Korean tech site, Digital Daily, Apple has now selected LG Display as a sole supplier of 1.52-inch panels for the upcoming iWatch.
The report from Digital Daily states that LG will begin mass production of these screens in the third quarter of this year, with initial volume set at around 2 million units. The story has since been pulled from the site shortly after it went live earlier today. This either points to a major leak, or a really far-fetched rumor. Either way it looks as if something between LG and Apple could be brewing in Korea.
The previous rumor of Apple releasing 2 sizes for the iWatch (1.3″ display for women and 1.7″ display for men) now could be a thing of the past. LG's 1.52-inch screen may in fact be a unisex model. I expect different band or bracelet combination will be available to give the product a more feminine or masculine twist once released.
The Apple iWatch may replace your iPod, and act as a standalone interface between you and your other iOS devices. Other rumors also point to the addition of home automation and health monitoring features, but nothing is confirmed.
With the onslaught of smartwatches we saw at CES this year, Apple already knows what it will be going up against. Devices like the Pebble Steel, Sony Smartwatch 2 and Samsung Galaxy Gear are probably the most popular out of the bunch now. Apple will have to top these devices in terms of features, and try to keep the device under $199 (the so called sweet spot for these devices). So, who here is buying an Apple iWatch come this Fall?
via: iDownloadblog
image – ciccaresedesign

[cf]skyword_tracking_tag[/cf]
Comments
comments