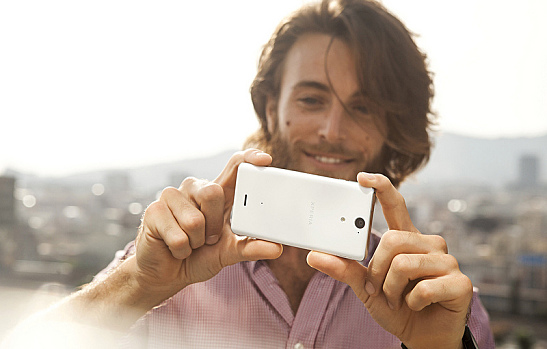 Cameras are a huge part of the smartphone experience, so it comes as no surprise that many developers have created apps to cater to the photographer in all of us. There are hundreds of photo editing apps that can turn your smartphone into a studio, but here are 10 that'll give you a great jumping-off point.
ioShutter Cam (Free, iOS)
This is a simple app that lets you shoot high-quality time-lapse films or just play with the slow-moving subject tracker. Features like 'ShakeToTake' and 'ClapToSnap' are fun bonuses that let you shake your phone or snap your fingers to take a picture.
Pop Camera ($1.99, iOS)
A high-res camera that lets you add free filters and shoot double exposures and sequences, Pop Camera has a fun design and lets you share high-quality photos on Twitter, Flickr, and Facebook.
Photosynth (Free, iOS)
If used correctly, you can compile a number of horizontal and vertical pans into one giant panorama with Photosynth. This app truly shines when taking photos of large areas with a lot going on, like a forest or busy intersection.
Pro HDR ($1.99, Android and iOS)
This app takes two photos, accenting highlights in the initial picture while bringing out shadows in the second. Then it blends the two shots together to create one photo with an incredibly sharp finish, which you can then edit with simple color and contrast options.
Hueless ($1.99, iOS)
Take black and white photos and edit them with color filters, exposure settings, and contrast adjustments. It's as simple as black and white.
PhotoCalc (Free, Android and iOS)
PhotoCalc lets you calculate correct exposure times, depth of field, and even hyperfocal distances as easily as snapping a picture. On top of that, it even uses your GPS to let you know the local sunrise and sunset times.
Canon Lenses (Free, Android and iOS)
This app is a huge database that provides information on almost every Canon lens made in recent memory. You can sort and filter selections based on factors such as aperture, focal length, price, and function, and then read through details about each lens in the database. It even provides information on where to rent lenses you'd like to try. It's not an editing app per se, but it's still a great tool for any photographer to have.
Blipfoto (Free, Android and iOS)
The idea behind this app is to make a time line of your life by uploading a single photo of personal significance every day. You can also search through other members' profiles and take a look at the lives of other photographers like you.
Scoopshot (Free, Android and iOS)
This is how you crowdsource journalism. By uploading newsworthy photos and headlines to your profile, news outlets can check your updates and offer to purchase your media. You set the price, and if you build a reputation, you could even be asked to take on special assignments. Just keep in mind that all uploads are only available for 48 hours to keep content current and newsworthy.
Adobe Photoshop Touch ($9.99, Android and iOS)
Adobe has turned the sometimes-complicated Photoshop experience into an easy-to-use app for mobile phones. Edit your photos on the go with the Adobe Photoshop Touch app, which provides almost all the same features you can get from the standard version of the program. Of course, this costs a little more than the other apps, but it's well worth the money.
The joke was once that buying a smartphone suddenly made you a photographer, but now it seems like the joke has almost become a reality. Though smartphones likely won't replace professional cameras anytime soon, the emergence of new and innovative photo editing apps are making smartphones more useful and versatile for photographers than ever before.
Image courtesy of Flickr
[cf]skyword_tracking_tag[/cf]
Comments
comments