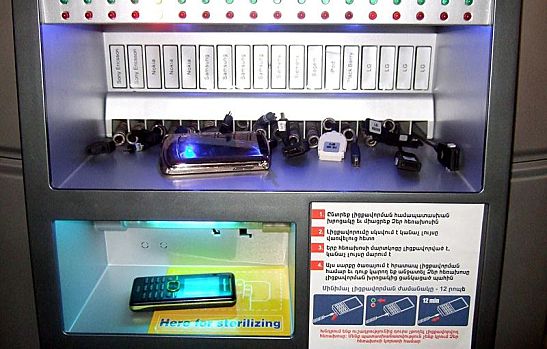 Over 50 percent of adults in the United States have smartphones, according to recent Pew Research data. What's more, IDC Research found that 80 percent of mobile device users keep their phone or tablet with them up to 22 hours per day. The problem? It's easy to get caught out in public with a dying battery and a desperate need to check Facebook, send an email or reply to a text. The answer? According to UK-based company Charge-it, more free mobile charging stations. But are consumers willing to leave behind their handsets—even with the promise of a full charge and total security?
Trading Ads for Power
UK firm Charge-it has partnered with South African company RiCharge to distribute free charging stations in malls and other public locations, ZDNet reports. The stations look like vending machines, and include up to eight compartments for mobile phones and other small electronics; tablets or extra-large phones will not fit. The company's plan is to offer free recharging coupled with targeted advertisements displayed on the machine's 23-inch LED screen, but the charging stations are payment-capable, meaning there is a potential for users to be able to pay for ad-free access in the future. Charging should take around the same amount of time as using your device's charging cable and a home outlet.
The biggest concern is security. All mobile charging stations are fitted with locking compartments: some use a consumer-created code while others include fingerprint technology. Should users forget their code or the fingerprint system breaks down, vendors can use a master override code to open compartments. The concept is similar to electric charging stations for cars, but taps into a larger market—if consumers are willing to leave their vehicles locked and charging and head into a store, why not leave mobile phones safely stowed and charging while shopping?
Power Up!
Of course, the other option is to try to ensure that one's phone not run out of battery power in the first place. Closing unnecessary apps and charging the phone each night can help avoid on-the-run battery depletion, but sometimes an energy-hogging battery is an issue with the device itself. For example, the Samsung Galaxy S4 offers 1,051 minutes of call time on a full battery charge, according to Which? Tech Daily, while the iPhone 5s provides 651 minutes, and the Nokia Lumina only 460.
Samsung again topped the charts for Internet usage time with a full charge, providing an estimated 405 minutes, followed by the HTC One Mini with 385. The Blackberry Z10 comes in at 335 minutes, and the iPhone 5c ranked last with 252. It's also worth noting that devices with higher milliampere-hour (mAh) ratings don't always outlast those with lower values, how effectively the phone processes power is also critical. Consider the Galaxy Note 3, which offers 3,200 mAh; the iPhone 5C provides 1,507. In a Gizmag video streaming test, the iPhone outlasted its Samsung rival by an hour.
Are you willing to leave your device behind at a mobile charging station, or would you rather invest in a phone with a better battery?
Image courtesy of Wikimedia Commons
[cf]skyword_tracking_tag[/cf]
Comments
comments