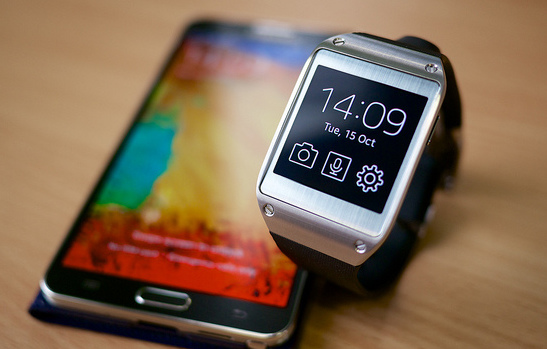 In a surprising move, Samsung revealed the Samsung Gear 2 smartwatch at last week's Mobile World Congress (MWC) in Barcelona just months after the release of the original Samsung Galaxy Gear. While rapid-fire next-gen releases are not a new trend among device manufacturers, very rarely are major releases spaced only six months apart—this usually means that a company is trying to make up for an unpopular product. The Gear 2 is slated to be released next month.
From Galaxy Gear to Gear 2
As TechRadar put it, "A smartwatch may be cool, but if it costs too much, has too short of a battery life, and is filled with useless gimmicks, it's not going to sell well." That was in response to the Galaxy Gear and is one of the many reasons why Samsung decided to quickly make changes to the smartwatch.
The differences in the devices' names show that there will be changes. The original Galaxy Gear ran on Android, but the Samsung Gear 2 has dropped the "Galaxy" association and is instead outfitted with Samsung's own Tizen operating system. Major critiques of the original Galaxy Gear included difficulty with customizing the display and subpar battery life, but Tizen demands less power.
Samsung announced at MWC that extending battery life was a priority for the new design, Engadget reports, and the switch to Tizen will allow the battery to run two to three times longer than the one-day battery life of its predecessor.
Samsung Gear 2: Inside and Out
The new smartwatch will come with 4 GB of internal storage and 512 MB of RAM. This will be paired with a 1.63-inch touch screen powered by a 1 GHz dual-core processor, a noticeable boost from the 800 MHz processor of the Galaxy Gear. Interestingly enough, the 300 mAH battery is smaller than that of the Galaxy Gear, but Samsung still promises a much longer battery life.
The watch will also come with infrared capabilities, a 2-megapixel autofocus camera that can shoot 720p video, a microphone, heart-rate sensor, and S Voice. On the Galaxy Gear, the microphone and camera were located around the wristband, preventing users from having the option to switch out bands. The Samsung Gear 2 redesign moves the camera and the microphone off the strap and onto the watch itself, opening the opportunity for new strap designs from third-party developers. The new watch will come in several colors, including charcoal black, wild orange, and gold brown, though the extent to which users will be able to customize their straps remains to be seen. There is no price tag yet for the Gear 2, but it will hit shelves worldwide in April.
How long would you like to see your smartwatch battery last between charges?
Image courtesy of Flickr
[cf]skyword_tracking_tag[/cf]
Comments
comments