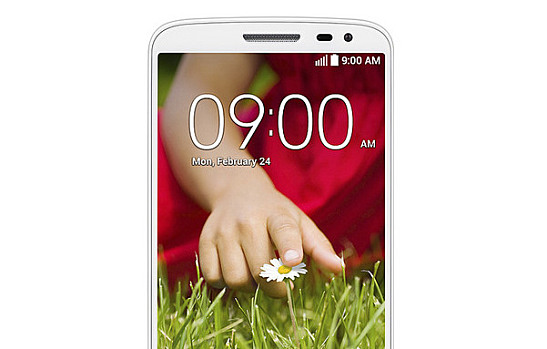 Though the LG G2 Mini is advertised as a "mini" phone, its size and specs don't really match its name. While it is smaller than the LG G2, its full-size counterpart, it is still significantly bigger than most other mini phones. The Mini may satisfy critics of the G2 who claimed the phone was too big to handle comfortably, but what other features does it offer?
What's Under the Hood
The new handset comes with a quad-core Snapdragon 400 processor running at 1.2 GHz, 1 GB of RAM, a 1.3 megapixel front-facing camera, and an 8 megapixel rear-mounted camera, all powered by a 2,440 mAh battery.
However, users can get their hands on a slightly more powerful model just south of the border in Latin America. The LG G2 Mini will be released there with a 1.7 GHz Nvidia quad-core Tegra 4i and a 13 megapixel rear camera. Both models will run on Android 4.4 KitKat, which is an upgrade over other mid-range phones that come standard with only the 4.2 patch.
From the Outside
The phone is 5.1 inches tall with a width of 2.6 inches and a total weight of 4.27 ounces. While this does offer a more comfortable hold than its elder sibling, CNET pointed out that LG made a somewhat questionable decision by choosing to outfit the phone with a matte back cover, which leaves it feeling cheaper than it should.
While this is one unwelcome change, the phone is a part of the LG G family; therefore, it only makes sense that some features remained consistent during the redesign process. One element in particular is the positioning of the control keys, which on other phones are normally located on the side of the frame. On the LG G2 Mini, the keys are situated in natural locations on the back cover that make them easier to reach than those situated on the side.
The screen is a 4.7-inch QHD IPS display with an unimpressive 960×540 resolution and a 234 ppi pixel density. "It's certainly bright enough and viewing angles seem above average for a mid-ranger like this. Still, the QHD resolution may leave you wanting more," Engadget reports. The screen still looks sharp, not to mention large thanks to the almost negligible size of the bezel.
The phone will be available in several colors, including red, gold, and the traditional black and white. While the phone is expected to be released later this month, there is, as of this writing, no price tag listed. Essentially, LG has released a budget KitKat phone under the LG G name, which may attract a new segment of the consumer population.
Which would you prefer: the high performance, more expensive G2 or the mid-range, mid-price G2 Mini?
Image courtesy of Flickr
[cf]skyword_tracking_tag[/cf]
Comments
comments