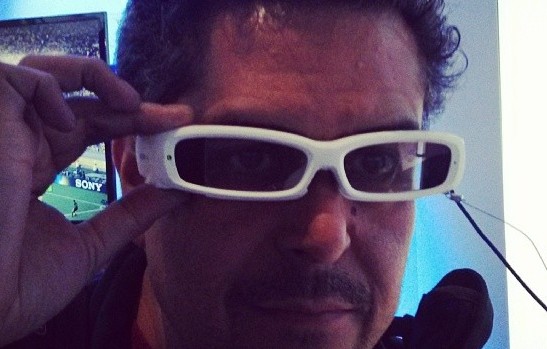 Among some of the most exciting wearable tech gadgets revealed at the 2014 Mobile Word Congress (MWC) in Barcelona this month was the Sony SmartEyeglass, a new kind of smart eyewear that is looking to take on Google Glass. This device was first revealed at the Consumer Electronics Show back in January, but after two months, more specific details have finally been released.
The Concept
"Imagine that you walk into an airport and instantly get directions to your check-in desk, or that you get scores and names of players displayed while watching a football game in real life. These are just some of the potential use cases of the new Sony SmartEyeglass concept," Sony's blog explains, summing up the direction Sony is planning to take with its eyewear technology: interacting with reality will be prioritized over checking email.
With this in mind, it comes as no surprise that the frame design looks much sportier than that of the Google Glass, packing a lot of technology into a small amount of space. Some of these components include an embedded camera, brightness sensors, a microphone, an accelerometer, a gyroscope, and a compass, as well as connectivity components that enable Wi-Fi and Bluetooth v3.0. The lenses and how they're controlled are just as interesting as what makes them work.
A Sleek Touch Pad and a Comfortable Lens
According to Tech 2, the lenses are a binocular see-through display that elongates the field of perception, making the information appear to be displayed at a comfortable distance rather than right in front of the wearer's eyes. What's really exciting about the prototype displayed at MWC is the sleek touch-pad controller used for navigating the visual interface. The touch pad comes with buttons to turn the glasses on and off, navigate through the display, and operate the camera as if controlling a holographic laptop. This navigation feature will no doubt create more wiggle room for app developers to build programs for the Sony SmartEyeglass. Sony is currently developing a software developer's kit (SDK) to get that ball rolling. The release date for both the SmartEyeglass and the SDK are still unknown.
After the demonstration at MWC, it's clear that Google Glass isn't the only player in town. Sony's eyewear technology is still in development and mostly under wraps, but its brief foray into the public eye has given techies everywhere something to look forward to. The eyewear game is being joined by more players lately, and that can only mean exciting things for consumers.
Do you think you'll purchase a pair of smart glasses when they are released to the public?
Image courtesy of Flickr
[cf]skyword_tracking_tag[/cf]
Comments
comments