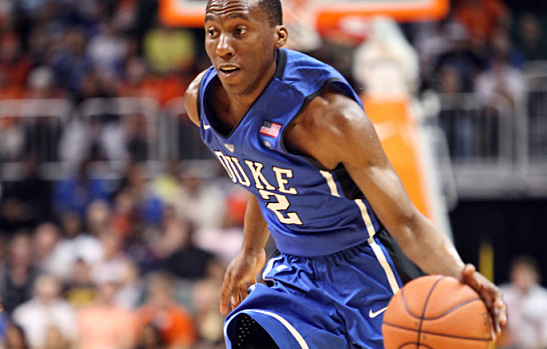 NCAA Basketball's March Madness starts on March 16, 2014, meaning fans have just a few weeks before they are consumed by schedules, stats, and scores for the better part of a month. In addition to watching games live and keeping track of scores on social media, many college basketball fanatics take it a step further by monitoring the action on their mobile devices. Here are five of your best bets for March Madness apps.
March Madness Live (iOS, Android, and Windows 8)
Though it's not available quite yet, the March Madness Live app—courtesy of NCAA.com—is the king of all Madness apps. Last year the app was free, so it is safe to expect that you'll be able to stream tournament games live on any of your devices in any location. Downloading the desktop version will give you access to the mobile versions as well, meaning you'll never be far from another free throw or dunk.
Sporting News: NCAA Basketball (iOS and Android)
The free Sporting News: NCAA Basketball app offers instant access to news, scores, and highlight videos from NCAA games. When March Madness rolls around, it provides breaking news push notifications for all teams in the tournament. In addition, users get a solid journalistic perspective, live game dashboard, and customizable features like the ability to set favorite teams.
CBS Sports (iOS, Android, and Windows 8)
Available for free on tablets and smartphones, the CBS Sports app covers more than just basketball, and it offers a massive helping of March Madness content once the tournament begins. In addition to live-action GameTrackers and streaming simulcasts, users can set up scoring, team news, or breaking news alerts to make sure they get exactly the information they want, when they want it. The app also features a slick one-screen design that lets you view the most games simultaneously so you never miss a second of the action.
Bracket Picker Madness ($0.99, iOS)
If you're looking for technically deep and nuanced March Madness apps, Bracket Picker Madness ($0.99) probably isn't for you. But if you prefer a simple bracket approach on your mobile device while enjoying games on the big screen, this may be just the ticket. The app creates a bracket based on criteria and stats that you select, letting you generate brackets that are full of upsets, have a few carefully screened picks, or focus on a specific stat you think will be the determining factor. This is a great app to use in conjunction with more complex bracket planning tools, or as a way to blow off steam and go with your gut.
The NCAA's premier tournament is fast approaching—what's your best bet for mobile March Madness?
Image courtesy of Wikimedia Commons
[cf]skyword_tracking_tag[/cf]
Comments
comments