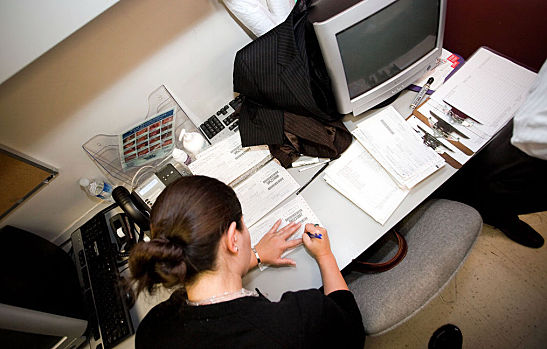 When a big office project deadline is looming, the urge to put it off for even 10 more minutes can be overwhelming. Fortunately, whether you want to procrastinate or produce, there are a host of office gadgets just for you.
Produce Like a Pro…
If you are trying to stay in a productive state of mind, look no further than your smartphone or tablet for help with managing demands and remaining on schedule. It doesn't always take fancy new hardware to keep you on the straight and narrow, though you may have to dig for a few apps.
One simple app that can help you remember what tasks you need to prioritize is Remember The Milk (Free, iOS and Android), which allows you to create to-do lists of your necessary assignments for the day. You can organize your tasks by priority, due date, the number of times a task repeats, or personalized tags. You can store lists locally on your phone or tablet, or the app can help you can manage them on the Remember The Milk online server. Tasks created on your tablet can even sync with the online server so you can find them later on your smartphone; if you lose track of a task, you can easily find it with the app's search feature.
After finding your task for the hour, there is a good chance that you will need office suite compatibility. That's where Quickoffice (Free, iOS and Android) comes in handy. This suite allows you to edit your Word, Excel, and PowerPoint files on your mobile device, and can sync with Google Drive for added online storage. It is even powerful enough to open and edit PDF files, a task that often requires its own specialized software.
…Then Play Like a Champ
When you're done being productive for the day, you might want to venture into the realm of mobile video games. For that, you will want to set down your phone and pick up a new NVIDIA SHIELD. This new handheld gaming device runs on the Android operating system and packs a heavy technological punch with an NVIDIA Tegra 4 processor, a five-inch gaming display, high-fidelity audio, and support for Wi-Fi. When the games are over, it can even play video files so you can stream your favorite show or movie.
The last item in this lineup of office gadgets is for the photo aficionado: the new Galaxy S5 Zoom. More than just an Android smartphone, this device—due out this year—is a fully-functional, camera-focused smartphone expected to have eight gigabytes of storage for all the photos you capture with its 20-megapixel rear camera, complete with zoom.
Whether you want to get something done or avoid it entirely, there is a device or app out there for you. What is your favorite office gadget?
Image courtesy of Wikimedia Commons
[cf]skyword_tracking_tag[/cf]
Comments
comments