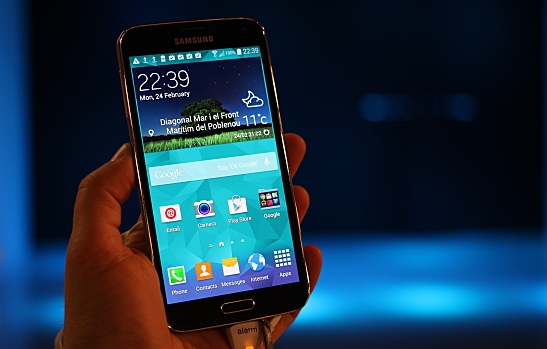 The Samsung Galaxy S5 is set to debut next week, but recent rumors suggested that production problems with the flagship smartphone's camera were causing delays. According to the International Business Times, Samsung still intends to release its new phone on April 11; however, even in late March, the manufacturer had not yet begun mass producing the device because the modules for its 16-megapixel camera would not fit inside the phone casing.
While NDTV says the molding issue has been solved, camera manufacturers are now having problems centering the ISOCELL camera sensor and are not able to properly coat the camera lens. In addition, a recent fire at one of Samsung's printed circuit board (PCB) suppliers is said to have also caused a minor halt in production for the S5.
Piecing Together the Camera Lens
While its predecessor, the Galaxy S4, had a 13-megapixel camera made of five plastic pieces, the S5's new camera requires the addition of an extra piece to add megapixels. The thickness of each plastic piece has remained the same, however, resulting in a lens that is too big. Korean IT news site Etnews analyzed the issue: "On a thin lens, even the slightest flaw results in a considerable optical distortion. To make plastic [lenses] thinner, a more accurate mold technology is necessary," an industry insider explained.
The creation of lens molds is reportedly not easy, either. Rather than allowing suppliers to create their own lens molds, Samsung recently began creating molds in-house and shipping them to suppliers; the suppliers would then produce lenses from the provided molds. This process is considerably more complicated, says Etnews.
Production Schedule and Supply Volume
Etnews reported in March that it believed Samsung would have to push back production schedules, but NDTV claims that the S5 could reach customers on time. They note, however, that supply volumes may not be what customers expect: instead of shipping five to seven million units, Samsung may now only deliver four to five million units. Officials have declared that they are confident that, despite any setbacks, manufacturers will be able to honor Samsung's commitments.
The Korean tech giant doesn't have long to wait if it wants to deliver its new Android-powered device on schedule. Gotta Be Mobile reports that, at this year's Mobile World Congress, Samsung committed to delivering the new smartphone to 150 countries on April 11. Individual carriers in the U.S., however, have not yet revealed when they will have phones to release to the public, which are expected to cost anywhere from $199 with a contract to $600 to $700 retail.
The new phone will debut with two storage options: 16 GB and 32 GB. For users who want more storage, the device will also accept microSD cards that can hold as much as 128 GB.
Will you be trading in your smartphone for a new Galaxy S5?
Image courtesy of Wikimedia Commons
[cf]skyword_tracking_tag[/cf]
Comments
comments