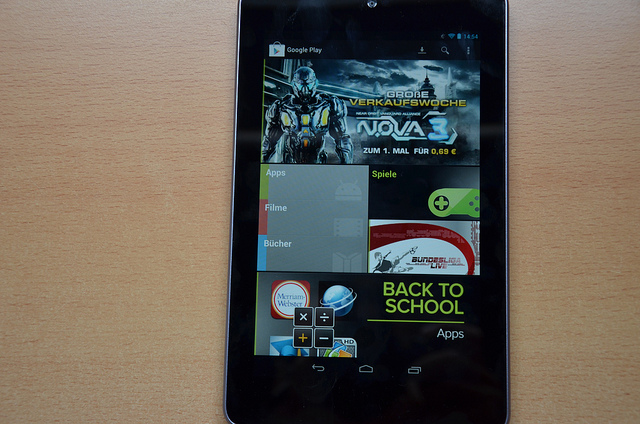 The Google Play store is pretty crowded, with more than a million apps to its credit and counting, according to Mashable. With so many apps, how do you know which ones are worth downloading and which are best skipped over? These free Android apps represent the best that the Google Play store has to offer with no monetary commitment.
Kik Messenger
Love texting? Take your messaging game to the next level with Kik, an app that allows you to text other users over a Wi-Fi connection. With a simple yet powerful interface that allows users to send emoticons, get message sent/received/read notifications, and even share Web content directly from the app, Kik messenger is a great way to communicate with enhanced features. This app is also perfect if you have a device like a tablet without a cell connection but still want to be able to chat with friends over Wi-Fi.
PicsArt Photo Studio
Love taking pictures but disappointed with your phone's on-board camera app? PicsArt Photo Studio will give you plenty of extra photo-taking tools and includes handy editing functions like filters and red-eye removal. Though most phones won't let you reprogram your camera button—if you have one—put this app on your home screen and you might just forget about your native camera app altogether.
Dropbox
Need a way to access files from other devices as well as your home computer? Look no further than Dropbox. This simple-to-use app allows you to easily "drop" files into a folder from anywhere and then access them on any device. This is a great solution if you need to access files for work on the go and share between your phone, tablet, and any PC or Mac. Though the app's free storage offering is a bit on the small side, if you find that you are using Dropbox often, you can always upgrade to one of the paid plans.
Flow Free
Want a free game that won't inundate the screen with ads or force you to pay money when you want to play another level? Then Flow Free is for you: this puzzle app is like connect-the-dots on steroids and allows users to play through hundreds of levels for free. Though there are a few ads, they are mostly discrete and won't hamper your playing experience. Best of all, the app is continuously updating with new levels, so if you do by chance solve all the game's puzzles, you can always look forward to more on the way.
Though there are plenty of other free Android apps, these represent the best of the best. Do you have a favorite free Android app?
Image courtesy of Flickr
[cf]skyword_tracking_tag[/cf]
Comments
comments