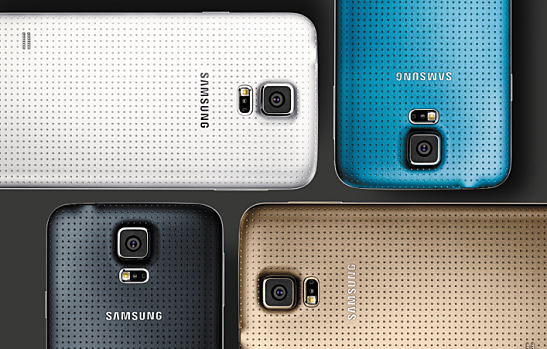 If you just picked up a new Galaxy S5 this week, you are now most likely in the market for a new case. Case manufacturers have been all over the Galaxy S5 design since it was first unveiled last month, so finding a variety of cases shouldn't be a problem.
With hundreds of options out there however, I thought I would save you the trouble of countless review hunting and YouTube hunting with my top picks. Below are my best Galaxy S5 cases that you can pick up right now.
5. Bearmotion Premium Back Cover – Best for: Keeping it slim on the cheap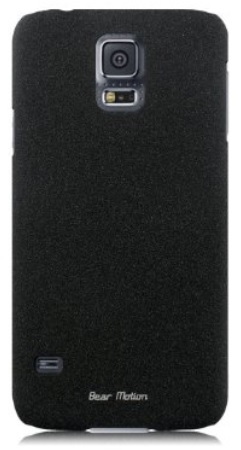 (image courtesy of Bearmotion)
If you don't like bulky case or expensive cases, for that matter, Bearmotion has something just for you. This slim textured back cover offers subtle protection while adding a great grip and feel to your GS5. The Bearmotion case comes in a variety of colors such as Black, Pink, Blue, Green and Gray and only cost $6.99 @Amazon.
4. Otterbox Commuter Series – Best for: When ultimate protection is needed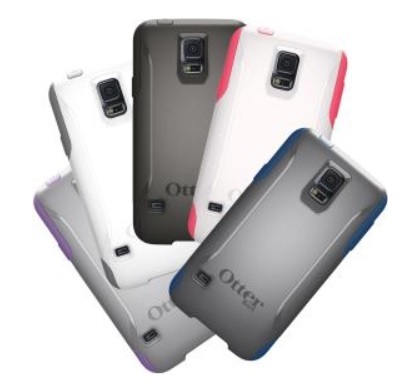 (image courtesy of Otterbox)
Looking to off road, mountain climb, or are you just plain clumsy? The new Otterbox Commuter series for the GS5 is here to protect your new investment. This case offers up some of the best protection in the industry with its dual layer sturdy construction. Port covers also block the entry of dust and debris getting clogged in your device. Otterbox also throws in 2 self-adhesive screen protector guards to prevent scratches and scuffs to the glass front panel. $35 @Amazon
3. Samsung galaxy S5 Wireless Flip S-View Cover – Best for: The executive look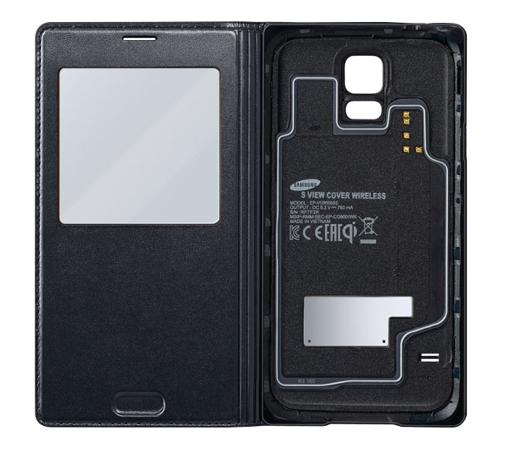 (image courtesy of Samsung)
This new flip cover from Samsung brings wireless QI charging to your new GS5 instantly. The S-View cover allows you to easily view key indicators, time, date, alarm, missed calls, and new messages without flipping open the cover. Samsung has also thrown in an Auto Wake/Sleep function that will power on your Galaxy S5 when opened, and power down your main display when closed. If you need all the bells and whistles with a nice leather finish, this is the only case to get. $70 @Samsung
2. Element Carbon Fiber Recon Case – Best for: True Carbon Fiber Fans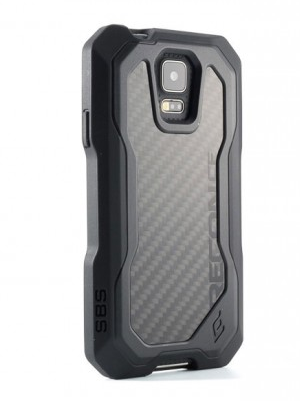 (image courtesy of Element)
The only reason to get a case like this is for the authentic Carbon Fiber used in the build of course. Carbon Fiber has been used for years on high-end sports cars due to its lightweight and high protection qualities. Carbon Fiber fans will appreciate the great looks, lightweight and ultra-rugged chassis construction found on this case. Element has also included a proprietary SBS sound enhancement feature that re-routes the sound from the back of your phone to the front. If you want true Carbon Fiber on your GS5, Element is your only option (at the moment). $80 @Carbon Fiber Gear
1. Spigen Neo Hybrid Case – Best For: Keeping the GS5 look and fee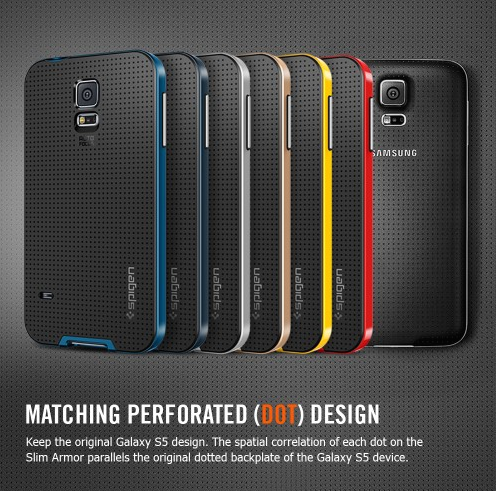 (image courtesy of Spigen)
Spigen has done a great job at preserving all the good looks and details on the Galaxy S5 with their new Neo Hybrid case. This case offers a hard polycarbonate edge and an inner soft TPU cover for dual protection. The metalized polycarbonate control buttons also offer a stylish look that bring a nice touch of class to the device. The Neo Hybrid comes in 6 color options of Satin Silver, Dante Red, Copper Gold, Metal Slate, Reventon Yellow and Electric Blue. Although the names might be a bit over the top, Spigen does make some of the best Galaxy S5 cases on the market. $30 @Spigen
image – Samsung
[cf]skyword_tracking_tag[/cf]
Comments
comments