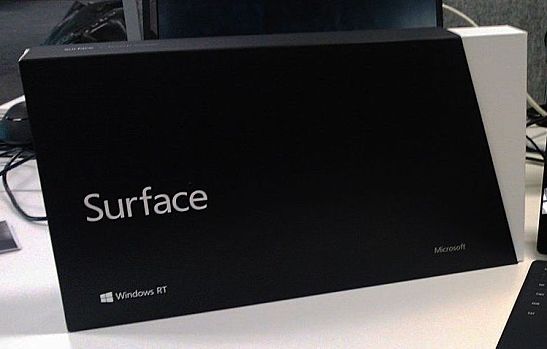 The Microsoft Surface tablet family hasn't exactly resonated with consumers the way rivals like the iPad and Galaxy Tab have. Microsoft is continuing to modify the tablet to try and find a version that consumers will respond to, offering up a small version of its Surface tablet in an attempt to mirror Apple and Samsung's success. If new rumors are correct, this new version may be coming to store shelves as early as next month: Yahoo! News reports that a product description page pegs the Microsoft Surface Mini release date for mid-May.
This compact version of the tablet was previously rumored to sport an 8-inch screen, a low-power ARM-based processor, and include a new "digitizing pen" that is said to be more accurate than a stylus.
Could an Official Announcement Be Coming Soon?
The source of the leak is actually an Amazon listing for a case from electronics retailer Vostrostone that included a picture of the rumored device and listed an availability date of May 18. "Well built to protect your Microsoft Surface Mini tablet for the years to come," the description read, according to CNET. Of course, the listing has since been taken down, but screenshots show the release date and product images clearly. Could this inadvertent accessory reveal mean Microsoft is approaching an announcement that the Surface Mini tablet is a real product? Executives have been dodging discussions about its existence since rumors first surfaced about the device last September—and still are, according to ZDNet, as a Microsoft spokesperson responding to this latest rumor with a brief "We have nothing to share."
Still, considering the existence of the Surface Mini is the company's worst-kept secret to date, it would make sense to finally give it an official reveal and let tech enthusiasts in on some of the features they can look forward to with this upcoming device, especially as there are plenty of unanswered questions surrounding the Surface Mini. It still remains unclear whether the mini tablet will use a low power ARM-based processor, which would prevent it from running the full Windows 8.1 suite. Will the smaller tablet aim for the "budget" market with a price of $299 or lower? Will it replace the underperforming Surface Pro line? Hopefully Microsoft will provide the answers to these and more some time before the rumored Microsoft Surface Mini release date.
Are you excited for a mini version of the Microsoft Surface tablet? Do you think Microsoft can duplicate Apple and Samsung's success in the small tablet market?
Image courtesy of Wikimedia Commons
[cf]skyword_tracking_tag[/cf]
Comments
comments