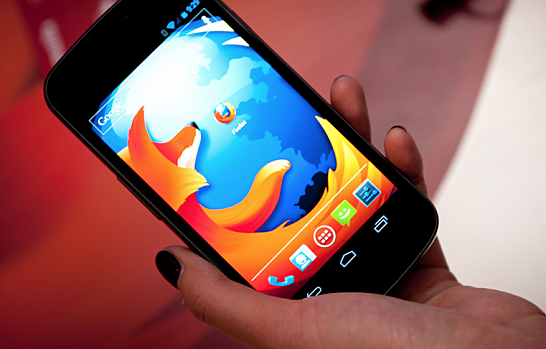 Mozilla released a substantial update to Firefox for Android, offering a number of new features that could make the browser more competitive with Android heavyweight Chrome. This update—the 29th for Firefox for Android—includes new customization elements, performance upgrades, and a brand new Firefox Sync option.
New Features Right From the Start (Menu)
The first thing users will notice about the updated app is a refreshed start screen. This new home screen now sports a customizable structure that has programmable buttons that can be customized with specific content, allowing easy access to users' history, top sites, or even bookmarks. Users can block certain frequently-visited sites from appearing on the home screen—like banking websites, for instance—or can opt to eliminate the start screen altogether if they want a cleaner interface.
The menu bar along the top of the app window has also been updated with new dedicated icons for sharing services like Facebook, Twitter, and e-mail. These customizable buttons aim to make sharing content with social networks and contacts directly from the Firefox for Android app a bit easier.
Firefox Sync Feature Introduced
Firefox for Android is taking a page from Google Chrome with its Firefox Sync feature, which uses a single login to "quickly and safely synchronize all of your data including passwords, open tabs, form data, history, and bookmarks between your computers and Android phones and tablets," according to the Mozilla blog. Though users will need to sign up for a Firefox account and use this login across all their devices to take advantage of this feature, Firefox Sync could be a convenient option for users who want to share content like bookmarks and login info between their devices but want an option other than Chrome. Though this new feature is enabled by default, it can be disabled easily for users concerned about sharing sensitive information across all of their devices.
In addition to these improvements, Firefox's Lucas Rocha confirmed via Google+ that pages load a bit faster in the newest update, especially on single-core devices, thanks to an updated progress bar. The default search engine has also been set to Bing instead of Google. This newest Firefox for Android release is currently available from the Google Play Store across all Android platforms and requires Android 2.0 or higher to install.
Do you use Firefox for Android on your device, or is there another mobile browser that you prefer?
Image courtesy of Flickr
[cf]skyword_tracking_tag[/cf]
Comments
comments