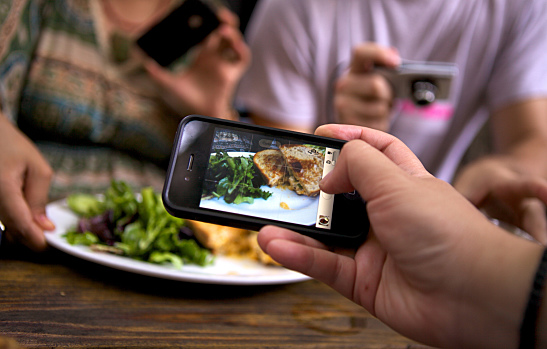 Everyone loves good food, but it can be daunting trying to decipher what's in your food and find the best places for quality meals in any given area. Unsurprisingly, foodies know there's an app for that — in fact, there are legion. The smart devices we carry every day are great tools for funneling this information and making it easily accessible to food lovers. But with so many apps to choose from, where does a hungry smartphone owner begin? Here are the six best apps for foodies:
1. Fooducate (Free, iOS and Android)
Fooducate is about healthy eating. With this little freebie, you can use your smartphone to scan product bar codes to pull up a list of ingredients graded based on their nutritional value. Worried about high fructose corn syrup, harmful dyes, toxic additives, or disguised "healthy alternatives" sneaking into your food? Fooducate offers up alerts for users so they may become informed, healthy shoppers. The app can be personalized to consider the user's age, weight, gender, etc. Additionally, it can be tailored to help users avoid ingredients such as MSG, GMOs, and even help you eat gluten- and allergen-free.
2. Foodspotting (Free, iOS and Android)
This app is for those who love social networking as much as they love delicious food. Share your favorite dishes and restaurants over the elegantly designed user interface and get all the best suggestions on restaurants from your trusted network of friends. Forbes notes that you "can instantly tag your food on Instagram by putting the hashtag #foodspotting on your photo when uploading."
3. DrinkedIn (Free, iOS and Android)
If you need a good place to watch the next game, or you're on the hunt for the best-made "Manhattan" cocktail in town, DrinkedIn is your social networking wingman. The app boasts the largest network of bar enthusiasts from more than 70 countries around the world, a catalog of 150,000 bars, and more than 10,000 mixed drink recipes. Learn about special deals for watering holes in your area and more.
4. Eat24 Food Delivery (Free, iOS and Android)
If you travel frequently and need great food delivered, Eat24 is for you. It's an app and Web service that pulls down takeout menus from 22,000 eateries in over 850 cities. Browse, view previous orders, compare prices and place an order all directly from the app. The Eat24 Delivery Service even lets you pay for your meals via PayPal or Google Wallet.
5. Good Fish Guide (Free, iOS and Android)
Eat smart with the Good Fish Guide. The handy little app will tell you if your fish is over-farmed or from sustainable stock that has received proper care. It offers sustainability ratings and a wide database of the different qualities of fish.
6. Seasons ($1.99, iOS)
This is one of my personal favorites, as seasonal food is often the tastiest. This app tells users if produce is in season or not. It could mean the difference between sweet, juicy strawberries for baking or bitter, more expensive strawberries, which have fewer uses. It's simple yet indispensable for produce lovers.
Do you have a different list of the best apps for foodies? Tell us your favorites.
Image courtesy of Flickr
[cf]skyword_tracking_tag[/cf]
Comments
comments