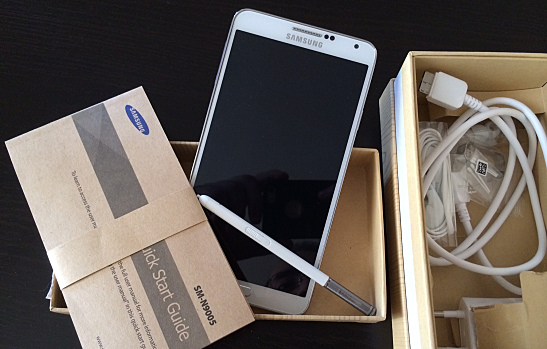 The Samsung Galaxy Note was the gadget that put phablets, or phone-tablet hybrids, on the grid. Several similar technologies had emerged beforehand, but it wasn't until Samsung joined the game that consumers saw phablets as a serious alternative to both smartphones and tablets and as a comfortable, sporty, and capable mobile gadget.
For Samsung, September is known as phablet season. Perhaps to try to steal thunder from Apple's anticipated launch of its next iPhone, Samsung has announced a special "unpacking" event to launch a few new releases, one of which is believed to be the Samsung Galaxy Note 4. This is only the second time Samsung has scheduled this type of event; the company revealed the Samsung Galaxy S5 at the first event.
September 3
Experts have been speculating that September 3 is a possible release date for the Note 4 since news of the gadget leaked in May, according to Green Bot. Now that the official Galaxy Note-themed invites have been sent out, the September 3 gathering has all but been confirmed as the Samsung Galaxy Note 4 launch party.
Samsung Unpacked 2014 Episode 2
The event will take place simultaneously in three different cities: Berlin, Beijing, and New York. As with the Samsung Galaxy S5 unpacking, viewers can expect more than just one gadget to be put on display. At the first unpacking event, known as "Episode 1," the Samsung Galaxy S5 was unveiled alongside the Gear 2, the Gear 2 Neo, and the Gear Fit. While what else will be unveiled with the Samsung Galaxy Note 4 isn't certain, big hints dropped by Samsung itself, even within the design of the invitation, strongly indicate that the Note 4 will be the major showcase at September's "Episode 2" event.
According to Sam Mobile, rumors have surfaced that "the Galaxy Note 4 might become available for purchase a few days before the Galaxy Note 3 did post-announcement, and a quicker launch would indeed be a good move on Samsung's part if the company intends to do something about the decreasing profits it faced in the second quarter."
But the question remains: What else will be revealed alongside it? What gadgets would you like to see unveiled on September 3?
Image courtesy of Flickr
[cf]skyword_tracking_tag[/cf]
Comments
comments