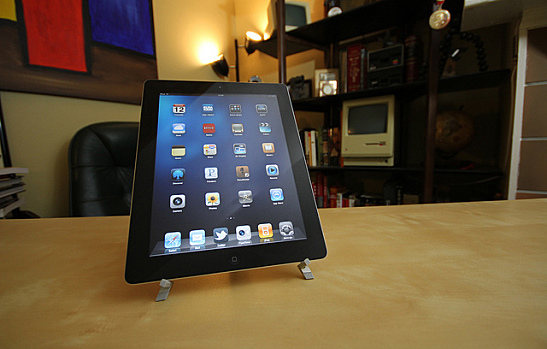 The holiday season is just around the corner, and Apple is expected to bulk up its catalog with new products before the year is over. In addition to the upcoming iPhone 6, recent reports confirm that a new Apple iPad has entered production. According to CNET, the product could be unveiled before the holiday shopping season hits, but there are some new features on this full-size iPad that are slowing down the assembly line.
Screening for Problems
CNET reports that one cause of the production delays is "a new anti-reflection coating being added to make the 9.7-inch tablet easier to read." Although it will take a little extra time to see the tablet hit shelves with this feature, it will be a great addition for iPad users who spend a lot of time using the product under fluorescent lighting or outdoors.
Specifically, this is a great improvement for the iPad's e-reader functionality. E Ink, a type of electronic paper used on Kindles and Nooks, still remains the advantage of classic e-reader devices. While iPads cannot yet recreate the same look and feel as E Ink, additional glare reduction with an anti-reflection coating will make reading on-the-go much easier.
Holiday New Releases

While the new full-size iPad is ideally scheduled for a release during the last quarter of the year, "a new version of the 7.9-inch iPad mini is also entering production and will probably be available by the end of the year," according to Bloomberg. That makes a total of four new Apple models hitting the market in a matter of months: the 4.7-inch iPhone 6, the 5.5-inch iPhone 6, the new Apple iPad, and the next iteration of the iPad mini.
The holiday season is always a boom time for tech businesses, and with fierce competition from both Samsung and some new lower-end smartphone makers, Apple is looking to cover its bases by releasing the cheaper iPad mini along with the full-size iPad. The iPad mini should be released by the end of the year, even if the full-size iPad doesn't make it to shelves by Christmas, according to Bloomberg. Where Apple is releasing the iPhone 6 and the new iPad, Samsung is releasing the Galaxy Alpha and the Galaxy Note 4. If anything, this competition means only one thing for consumers: plenty of options.
Which gadget are you most excited for this holiday season?
Image courtesy of Flickr
[cf]skyword_tracking_tag[/cf]
Comments
comments