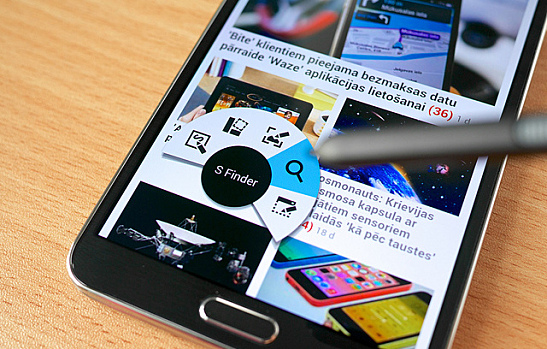 The Samsung Galaxy Note 4 won't be revealed until September 3 at the official Samsung UNPACKED event, but an Indonesian phone retailer seems to have spoiled the surprise by listing the specs of the Note 4 on its pre-order website, according to CNET.
The Rundown
Erafone, the retailer responsible for the leak, already pulled down the web page, but it was up for more than enough time for information about the phablet to spread. According to the listing, the Note 4 will come with three different storage sizes: 16 GB, 32 GB, or 64 GB. It will also include a microSD slot to hold up to an additional 128 GB. The screen will be a 5.7-inch AMOLED display with a 1440 by 2560 pixel resolution. Just like the Samsung Galaxy S5, it has a back-facing 16-megapixel camera.
Which processor the device includes depends on the region in which the device is purchased. One option is Samsung's own rumored Exynos 5433, which is an octa-core that packs four 1.3 GHz Cortex-A53 and four Cortex-A57 cores, while the model most likely to come to the United States will have a 2.5 GHz quad-core Snapdragon 805 chip. According to Android Authority, the AnTuTu benchmark showed that the Exynos only slightly outperformed the Snapdragon 805, but both showed an approximate 15 percent performance boost over the Samsung Galaxy Note 3.
The Design
According to another CNET report, "The upcoming Samsung Galaxy Note 4 could be next in line to sport the company's new metal design," continuing the trend that will be seen on the new Samsung Galaxy Alpha. But whether that'll be standard with each model or just a "premium materials" option remains to be seen.
A lot of speculation has been brought to an end with this leaked information, but there are still several questions circulating about the soon-to-be-released phablet. Details about apps and features are still unavailable, and no news has been released regarding potential special functionality, like a fingerprint scanner or improved built-in autofocus. For that information, the world may have to wait until September 3.
What features are you hoping will be included with the Samsung Galaxy Note 4?
Image courtesy of Flickr
[cf]skyword_tracking_tag[/cf]
Comments
comments