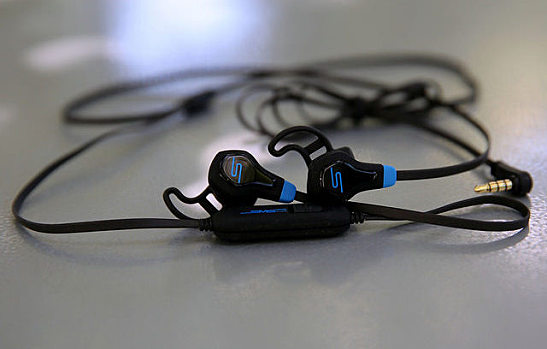 There is good news from Intel for headphone users who have always wished 50 Cent could help monitor their health. In partnership with 50 Cent's company, SMS Audio, Intel is releasing the BioSport In-Ear Headphones, which are designed to track users' biometric information through their ears.
The earbuds will use an optical sensor to measure heart rate. Optical sensors can measure heart activity more accurately than other types of wearable heart-rate monitors when the user is in motion—as is usually the case when they want to measure their pulse)—and are featured heavily in cutting-edge wearable technology research, according to Mobius Health.
App Integration
The headphones will be connected to the user's smartphone by a wire; this will both power the device and transmit biometric information. In an attempt to facilitate broad use of the product, the BioSport In-Ear Headphones will work with the popular RunKeeper fitness app.
Intel revealed a prototype of this concept at the Consumer Electronics Showcase earlier this year, according to Gizmodo. The prototype was paired with an app that determined what music to play during the user's workout based on their heart rate. Though this feature has yet to be mentioned in conjunction with Intel's recent announcement, Viral Global News suggests that if it is included in the final product, it will help users maintain an ideal aerobic workout: A low heart rate will prompt the app to play a faster song, while an excessively high rate will trigger something a little slower.
The BioSport In-Ear Headphones are not the first of their kind, but they are the first that do not require a separate battery, and they're the only biometric device backed by the lyrical genius behind "In Da Club." LG's offering is wireless, but requires a rechargeable battery and transmitter to be worn clipped on clothing. The iRiverON earbuds are also wireless, but require the user to wear a clunky neck band.
What do you think of biometric headphones? Would you rather wear headphones than a smartwatch or fitness band?
Image courtesy of Flickr
[cf]skyword_tracking_tag[/cf]
Comments
comments