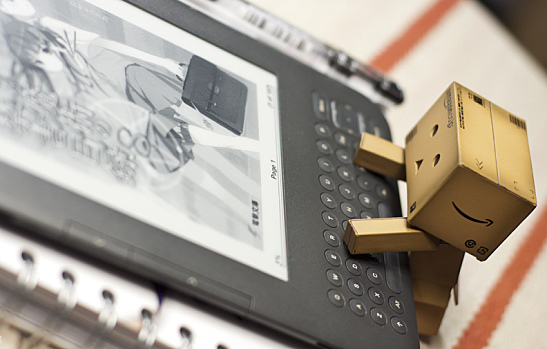 Amazon announced a line of new Amazon Kindle products this week, and it looks like the company is targeting a younger audience with some of the devices. The lineup includes a new release of the Kindle Fire HDX 8.9, the Fire HD 7, the Fire HD 6, and a new, high-end e-reader called the Kindle Voyage. Furthermore, the HD 7 and HD 6 will also be available in Kids Editions that come with child-friendly features.
Upscale E-Reading
The Kindle Voyage will be released in October for $199—a high price, but one that comes with a Kindle made of premium materials. According to CNET, this addition to the new Amazon Kindle line is built with a smooth, solid-glass front and a black magnesium casing around the back. It weighs in at less than half a pound and measures 7.6 mm thick, which is less than a third of an inch. This glass cover is chemically treated to make it scratch resistant, and it's designed to cast off light and reduce glare, making the sharpness of the 300 ppi screen—the densest of any Kindle so far—even more crisp.
Not a Toy—or Is It?
While the Kindle Voyage may be marketed toward adults, the Kids Editions of the HD 7 and the HD 6 definitely aren't. The Fire HD Kids Edition comes with a thick rubber case that is both easy for kids to grip and resistant to bangs and bruises. "This seems to be nothing more than the new Fire HD with a rubber bumper," says BetaNews, but it's not the hardware that parents should be excited about. Purchasing one of these kid-friendly models gets the user a two-year warranty, as well as a full year of FreeTime Unlimited, a service that gives kids access to over 5,000 books, movies, and games tailored specifically to them. The Fire HD Kids Edition starts at $149 for the 6-inch model.
Improving Operations
Sangria is the code name for the forked version of Android that Amazon will use for this line of new Amazon Kindle products. It's the fourth version of the Fire OS and is based off of KitKat, but it comes packed with features that make it simpler to handle. These features include Advanced Streaming and Prediction (ASAP), which is used to guess which movies or TV shows the user would enjoy based on their viewing history, and Smart Suspend, which "develops a device-specific profile for when the tablet is typically not in use and proactively turns wireless off and on to deliver up to 25 percent more standby battery life," according to BetaNews.
Amazon has really cast the net wide by revealing so many new products, but with such a solid roundup of devices, it seems likely at least one will strike it big with consumers.
Which of these four new products are you most excited for?
Image courtesy of Flickr
[cf]skyword_tracking_tag[/cf]
Comments
comments