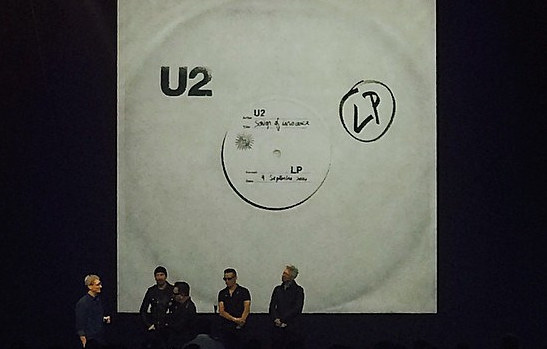 Directly following last week's iPhone 6 and Apple Watch announcement event, iTunes users found something curious: a new U2 album entitled Songs of Innocence, which just showed up without any prompting. Many users were a little bothered by this move, pointing out that it is one thing to offer an album for free to download, but it is something else entirely for a company to push it to a device without the owner's permission. Feelings on Songs of Innocence aside, it looks like Apple fans may have more U2 to look forward to (or not) in the near future, as TIME reports that U2 and Apple have a "secret project" in the works that they hope will revolutionize the music industry.
A New Format?
While the TIME article doesn't give away the full scope of the project, U2 front man Bono said the project revolves around a new digital music format that he hopes will draw consumers towards purchasing music and away from pirating or streaming it. In theory, this new format won't just help U2, but lesser-known artists as well. So, where does Apple come in? The company is currently the project's primary developer and will also serve as a distribution channel.
No Details or Target Release Date
Though U2 and Bono say that they are out to "save the music industry," there are scant details about what could lure music fans back into the track- (and album-) purchasing game. Additionally, Apple and U2's secret project doesn't have a release date, and neither party is able to put even a target year on when the audience might learn more about this collaboration or see the first music released with this new format.
It seems like Apple and U2's secret project, though vague, is at the very least an ambitious undertaking. Do you think a new music format could convince music streamers and piraters to buy music again?
Image courtesy of Flickr
[cf]skyword_tracking_tag[/cf]
Comments
comments