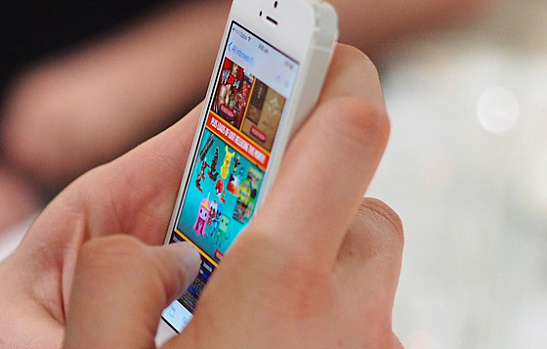 Though iOS 8 looks very similar to last year's iOS 7 update, this new iteration has plenty of features under the hood that make iOS 8 the most seamless and easy-to-use operating system for the iPhone yet. There are plenty of new features to dive into with this update, and while most fall into the "hit" category, there are a few "misses" and quite a few features that users may wish had made it into the final version of the release.
iOS 8 Hits
Apple's iOS 8 update feels like a really polished version of iOS 7. One of the first improvements users will likely notice is the ability to interact with notifications from the lock screen. Users can dismiss individual notifications, delete or flag emails, and even respond to text messages with either a pop-up keyboard or voice-to-text transcription, without ever leaving the lock screen. Speaking of voice commands, the iOS 8 update also brings a totally hands-free mode to the iPhone. Once this feature is enabled in the Settings menu and the device is plugged in, simply say "Hey Siri" to interact with the phone via Siri's voice commands.
Another new feature that is fairly intuitive and easy to use is Family Sharing. Before, when members of a family wanted to buy an app, they had to purchase it on each of their Apple accounts. Now, family members can download apps purchased by other family members by simply selecting an app from a shared purchases list in the App Store or iTunes. Even better, kids using iPhones and iPads running iOS 8 will have to ask for permission from a designated "decision maker" before they can download or purchase apps, which is a great relief to parents whose bills have skyrocketed in the past when kids purchased content on their devices.
In addition to these broad updates, two apps in particular got some serious feature upgrades. The first is the Messages app, which now has several new features including predictive text, a feature that enables users to share their location with other iMessage users, and a voice notes feature that allows users to send small voice messages embedded in the text thread. The second app that has gotten a serious feature-focused upgrade is the Photos app, which includes new photo-editing options like auto-straightening and color correction. When users edit a photo in iOS 8, the changes that are made are applied to the photo on other devices, including Mac computers and iPads.
iOS 8 Misses
For all its great new features, there are a few elements of the iOS 8 update that currently miss the mark. One of these is the iCloud Drive upgrade, which will eventually be a Dropbox-style update to the iCloud service that will allow Mac and iPad users to access the same files. However, this feature, which must be enabled or disabled directly from the iOS start screen, doesn't currently serve much of a purpose. Without Yosemite to back it, seems a bit superfluous for iOS 8, especially because an iCloud Drive-focused update could have been released alongside Yosemite when it is released later this year.
Another feature that is stuttering a bit out of the gate is the new photo organization system, which swaps the old-fashioned Camera Roll for "recent photos" and "collections" folders that organize photos by location or date. For those who had all their favorite photos saved in their Camera Roll, this is a little inconvenient, as they'll have to make another folder with all photos marked "favorite" in order to achieve the same effect as the original Camera Roll. Additionally, removed photos now go to a "deleted" folder, which needs to either be purged manually or will be automatically deleted after 30 days. This two-step deletion process is a bit cumbersome, and thus far there is no way to bypass the deleted photos folder.
iOS 8 Features Missing Altogether

One big feature that many were hoping iOS 8 would include is side-by-side multi-tasking. Though iOS has had support for simultaneous apps, users still can't view more than one app at a time. Many had hoped that with the advent of the larger iPhone 6 and iPhone 6 Plus screens, multi-tasking would finally come to iOS with the iOS 8 update, (especially since the feature had been rumored by 9to5Mac to be in the works for the forthcoming iPad as well), but this feature just didn't materialize this time around.
Have you upgraded to iOS 8 yet? What is your favorite new feature?
Image courtesy of Flickr
[cf]skyword_tracking_tag[/cf]
Comments
comments