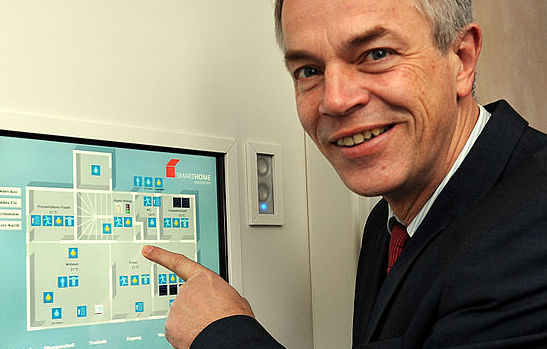 Though users will not see a dedicated HomeKit app on their latest iOS 8 Apple devices, developers are working on ways to harness this integrative technology in ways that are going to change the future. Leveraging the power of Siri and geolocation technology, HomeKit can help users automate their lives and make the "Internet of Things" dream a reality. Here are three futuristic HomeKit features users should be excited to see.
A Truly "Smart" Home—No Inputs Needed!
In today's smart home, users with compatible devices can control things like the thermostat and the lights by just opening an app. With HomeKit, users won't even have to do that. Know Your Mobile reports that by using location data, the user's smart home will be aware of where they are on their commute home and can have the home ready when they get there. Users will still have to establish locations and program the smart appliances so the technology understands which lamps to turn on as the user approaches, but after the initial setup, HomeKit will take care of the rest.
There's little reason to worry about security. According to Know Your Mobile, there are "multiple redundant layers of security" built into HomeKit, and every single command issued with this service includes end-to-end encryption between all smart devices and iOS 8 devices.
Home Security Redefined
In addition to being able to control electronics inside a user's home, Apple's HomeKit could also redefine home security. Motion sensors that detect activity at the front door can instantly send an SMS picture to the user's smartphone to inform the user of a potential intruder, when there is a package delivered or a child arrives home. In addition to monitoring the front door, HomeKit could be used to monitor activity near windows, back doors, and other potentially vulnerable areas of a user's home.
A World of Personal Entertainment, Minus the Remote
Imagine sitting down on the couch, pulling out a smartphone and then having a universal remote instantly. With HomeKit, users can control their TV and sound system, browse content on a DVR, and stream live video or content from services like Amazon Prime or Netflix, which could make juggling remotes and other devices a thing of the past. This integrated media arrangement could be set up to automatically launch when users hit their couch.
Developers are still working on their HomeKit apps and accessories, so these options are not yet available via the App Store. Smart device manufacturers including Cree, Broadcom, Philips, and Honeywell, among others, have already signed on to work with HomeKit technology.
What HomeKit features are you excited to see in the future?
Image courtesy of Wikimedia Commons
[cf]skyword_tracking_tag[/cf]
Comments
comments