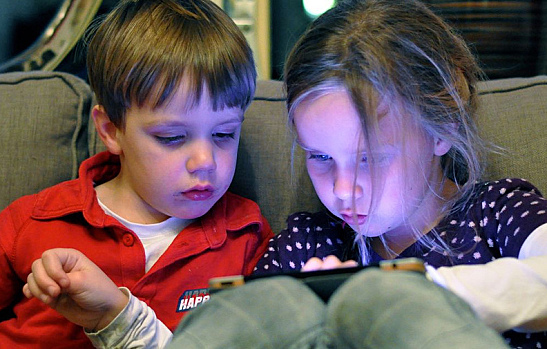 Though there are plenty of kid-friendly games on both the App Store and Google Play store, parents might wonder if there are any video apps to keep their little ones entertained. Here are the three best kid-friendly apps for videos, which are all easy to use and feature high-quality content that will keep even the youngest ones occupied and happy:
1. WeetWoo ($3.99, iOS)
This video app is available exclusively on the App Store and allows parents to tune to one of three different age-appropriate "channels" that feature educational and entertaining content. Kids 3–5 years old can watch animated nursery rhymes, phonic lessons, and even spelling. On the channel designed for kids 6–8, WeetWoo features videos that take viewers on a tour of China or introduce them to gorillas at the San Diego Zoo. The final channel (designed for ages 9 and over) features episodes of Bill Nye the Science Guy as well as historical videos that teach school-age kids about important historical figures. This video app costs $3.99, but it is free of any in-app-purchase functionality.
2. PBS Kids Video App (Free, Android and iOS)
Like its title suggests, this app features videos from the PBS series of children's programming, including episodes and clips from shows like Sid the Science Kid, Sesame Street, and Super WHY. The app also updates with new content every week and includes playlists that focus on subjects like reading, science, and math. The PBS Kids Video App is available and free to download on both the App Store and Google Play store. However, the app does have an in-app-purchase feature that can be used to download full episodes of selected shows.
3. Children TV Videos for Kids (Free, Android)
This app links directly to curated YouTube videos that are deemed safe for little eyes. Though the app does use YouTube, children who play videos on the app will not be able to browse the full YouTube site, which means they won't be subject to potentially inappropriate content. The app also features a special "learn a language" channel that features videos introducing young children to other languages. Children TV Videos for Kids is free on the Google Play store, but it does include a "remove ad" in-app purchase.
If you are looking to keep your little ones entertained with videos during a long car trip or even at home, these represent the best kid-friendly apps currently available. What are your favorite apps for the little ones?
Image courtesy of Flickr
[cf]skyword_tracking_tag[/cf]
Comments
comments