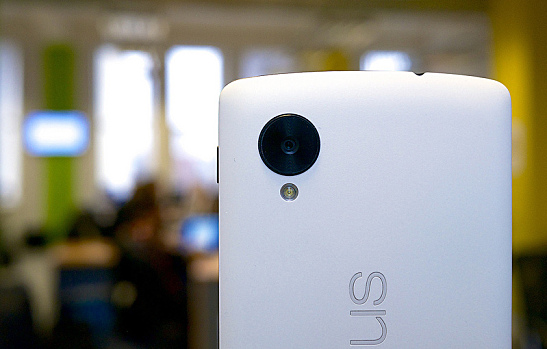 The Google Nexus 6 is coming out before the year is up, so it's a good time to take a look at the phones that came before it. That means a head-to-head comparison of the Nexus 5 vs. Nexus 4 is in order. The Google Nexus 5 and Google Nexus 4 were never the most high-end phones, but they packed a lot of power and received generally positive reviews, which is why they still deserve some consideration. Phone Arena actually has user ratings for the Nexus 5 and Nexus 4 at 9.4 and 9.5, respectively, meaning they're both terrific gadgets. But which one is better?
Hardware
The Nexus 4 was criticized for two things in particular: the glass back and the lack of a microSD card slot. It came, at most, with 16 GB of internal storage, which is more like 12 GB when taking into account the space the initial software and OS take up. While Google did get rid of the glass back and replace it with a plastic cover with a firmer grip, the Nexus 5 unfortunately doesn't have a microSD slot either—but it does offer a 32-GB model, which is almost a necessity for users who like using their phones for media and games. The Nexus 5 also has a 2.26-GHz processor, while the Nexus 4 runs on 1.5 GHz. This means applications and information run faster and more smoothly on the Nexus 5 (and it also handles multitasking better).
Display and Connectivity
According to Computerworld, "the N5's display is brighter with crisper detail, more brilliant colors and more pure whites," and "if any one thing were to convince me to upgrade, the screen would probably be it." The display on the Nexus 5 has a 1080-by-920-pixel resolution with 445 ppi, giving the 5-inch display a very crisp look. The 4.7-inch Nexus 4 display, on the other hand, has a 768-by-1280-pixel resolution with 318 ppi, which looks dull and flat when compared with the Nexus 5.
As far as connectivity is concerned, the Nexus 5 can connect to faster 4G networks while the Nexus 4 can only go up to 3G, according to TechRadar. This is pretty huge for on-the-go users who stream a lot of media.
The 16-GB Nexus 5 now sells for $349, and the 16-GB Nexus 4 can be found for about $200. Both phones are great devices with similar specs, but when it comes to the Nexus 5 vs. Nexus 4, there are big differences in price, storage space, and style. For a phone that's better in your hand and has a processor that's about 50% more powerful, the Nexus 5 is the better choice. Otherwise, as long as not having 4G connectivity is not a problem and users have access to cloud storage, the less expensive Nexus 4 is a comfortable option. Which do you think is the better phone?
Image courtesy of Flickr
[cf]skyword_tracking_tag[/cf]
Comments
comments