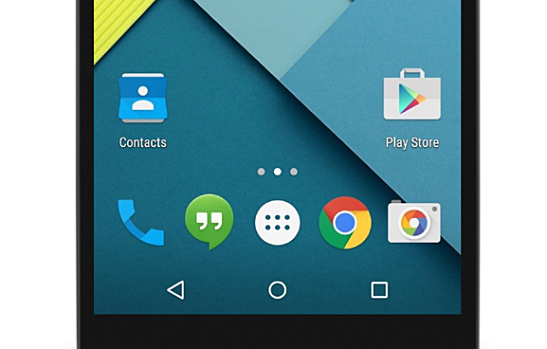 Hot on the heels of Apple's iOS 8 release, Android has released its own refreshed operating system. Android 5.0 Lollipop is a total overhaul of the Android OS, with dozens of new features and hundreds of performance upgrades under the hood. Android users will certainly have a lot to explore in this new update, but here are four best new features in Android 5.0 Lollipop
Lollipop Has a Fresh, Sweet New Look
Thanks to Lollipop's new "Material Design" aesthetic, Android has never looked sharper. Android's new look features flat, minimalistic icons that pop with vivid colors and beautiful transition animations. Users may also notice more realistic lighting, shadow effects, and edge-to-edge imagery, which fill the screen nicely. Though iOS has always been thought of as the more elegant mobile operating system, Android 5.0 Lollipop proves that it can compete in this space too.
Better Notification Center and Customization
The new OS features a revamped notification system that uses swipeable, interactive notification cards that are displayed in the middle of the lock screen and in an expanded notification drop-down menu. Not only is the look of the notification center different, but cutting down on excessive notifications will now be easier.
The new OS allows users to set custom priority levels for specific apps or let the OS automatically prioritize notifications. If a user's notification preferences change, they can take advantage of priority mode, which allows them to switch from seeing all notifications to only seeing important ones (like texts, e-mails, etc.). In-app notification display has also been improved: With apps that support the new in-app response feature, users can simply pull down on a notification banner, respond to a notification without leaving their current app, and then swipe up to dismiss.
Brand New Multitasking View
Switching between apps hasn't been the most fluid experience with Android, and many users simply didn't take advantage of this feature as a result. However, Android 5.0 Lollipop has a brand-new multitasking view that makes going from app to app much easier. With a simple tap, Android users can pull up a list of currently running apps in a stacked display—like a deck of cards—and then easily select the app they would like to switch to. This new view makes for a faster app switch, and the animation is a lot less pronounced, ensuring quick, easy transitions.
Multiple User Profiles
One of the most requested features for Android has been support for multiple user profiles, and this feature has finally arrived. Users can now have profiles for work, personal use, and even a guest profile. Switching between profiles takes only a few seconds, and this intuitive feature will come in handy for those who want to keep their personal and business "worlds" separate.
There's a lot more to Android 5.0 Lollipop than just these features. For users who aren't aren't sure when (or if) their phones will be getting the new operating system, Digital Trends has compiled a list of phones that are getting the update.
Have you had a chance to check out the latest Android update?
Image courtesy of Flickr
[cf]skyword_tracking_tag[/cf]
Comments
comments