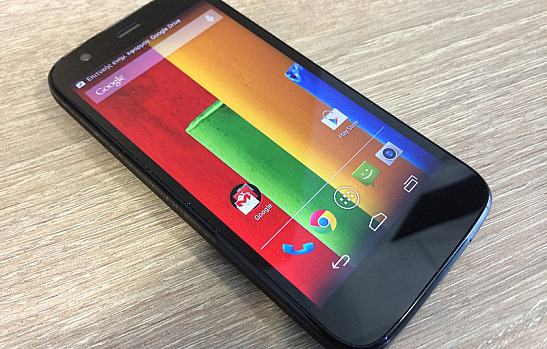 Motorola has released the newest iteration of the Moto G, which includes a few upgrades from the 2013 model and promises of an Android 5.0 Lollipop update before the year is over. While last year's Motorola Moto G didn't have much of a presence in the United States, it was a huge hit in emerging markets around the world, according to IntoMobile. The phone's simple design allowed it to perform all the standard smartphone functions at a price point of less than $200 without a contract.
The Inside
As a budget phone, the new Moto G's specs won't blow the competition away. It has a 1.2 GHz Qualcomm Snapdragon 400 processor and 1 GB of RAM. Both the 8 GB and 16 GB options will come with a microSD card slot, which can expand the storage capacity by up to 32 GB. "Motorola promises that Android 5.0 Lollipop will land on the device as soon as humanly possible," IntoMobile also notes.
The downside here is that the basic Moto G model does not come with 4G LTE capability, which means users will be stuck using slower data connections when not hooked up to Wi-Fi. The phone can still hook up to GSM, GPRS, EDGE, UMTS, and HSPA+ networks, but LTE won't be an option until an updated model is released, and it's unclear when that will happen. It took about six months for the LTE version of last year's Moto G to come out after the initial December release.
The Outside
The phone has a plastic case that houses the 5-inch HD IPS display, an upgrade from the 4.5-inch screen on the previous Moto G iteration. The display itself has a 720 by 1280 pixel resolution, bringing the pixel density to about 294 pixels per inch (ppi), slightly lower than the 329 ppi in the 2013 model.
According to CNET, the rear-facing camera on the 2014 Motorola Moto G was upgraded from 5 megapixels to 8 megapixels. It also received a few software upgrades, such as face detection. There is also a 2 megapixel camera built into the front of the phone.
The 2014 Motorola Moto G is available for purchase in the United States for $180 without a contract.
Will you be getting the Moto G for anyone this holiday season?
Image courtesy of Flickr
[cf]skyword_tracking_tag[/cf]
Comments
comments