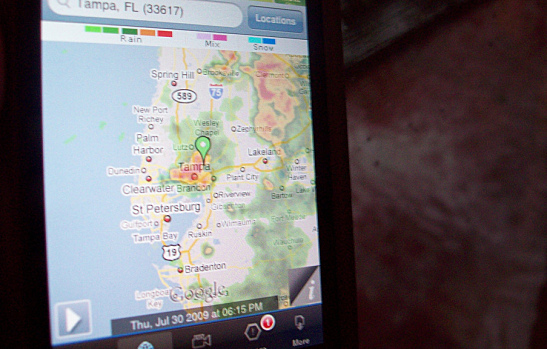 Today's smartphones and tablets provide users with weather apps that not only display current conditions, but often also include radar maps, 10-day forecasts, and even advanced weather metrics and trends. There are hundreds of weather apps across the Google Play and App Store marketplaces; here are five nominations for the best weather app. All of these apps are available for iOS and Android and, best of all, they're free!
Yahoo Weather
If you crave a simplistic app that uses stylish images to give you basic weather data at a glance, then Yahoo Weather is your best bet. This app uses beautiful, high-resolution images — which look great on iPad retina displays — to illustrate reports on current conditions. It also uses images in its notification tray to help users immediately identify future conditions, alerts, and more. Though power users may find this app's lack of advanced data a little disappointing, it's a perfect fit for users who just want great graphics to tell them whether they'll need an umbrella or a sweater for the day ahead.
The Weather Channel
Like Yahoo Weather, The Weather Channel app uses big images to help users see current conditions at a glance. Unlike Yahoo, it also allows users who crave more data to view advanced tools, such as radar maps that include overlays, storm alerts, and movement tracking. Though the app's design takes a little getting used to, and tabs that display information like allergy data can be a bit tough to find, this is a solid app that will please both the design-conscious and those looking for more in-depth weather information.
WeatherBug
Though WeatherBug may not have the style of Yahoo Weather or The Weather Channel, it features advanced functions, including live weather cams and a geo-located "Now" page that allows users to view severe weather alerts, current temperature, the "feels like" temperature, dew point, humidity, sunrise and sunset times, wind speed and direction, and barometric pressure. WeatherBug also includes a "Spark" feature that shows lightning strikes in your area and allows you to share pictures of recent strikes. While it may not be as pleasing to the eye, WeatherBug includes a lot more information than other apps, and it has robust features designed to please your inner meteorologist.
Weather Underground
Another option for those who crave an information-heavy app is Weather Underground. Like the eponymous website, Weather Underground pulls data from several streams, including local weather outlets, big-name sources, and even user-submitted content. The defining feature of the Weather Underground app is its customizable Wundermap, which combines all available data into a slick, easy-to-understand graphic format, perfect for meteorology enthusiasts as well as casual weather observers. The app also features an easy interface for users to report current conditions where they live. The Weather Underground app has won several awards, including the PC Magazine Editor's Choice award for best weather app.
Weather Whiskers
Everyone knows that the Internet is essentially a big collection of funny cat pictures, so why not have an app that reflects that very true fact? Weather Whiskers doesn't have maps, advanced metrics, or user-submitted content. What it does have is funny pictures of cats that will tell you current conditions, as well as the five-day and hourly forecasts. This may not be the most advanced app available, but if you want a basic weather app bursting with personality, Weather Whiskers is a great choice.
Of course, the best weather app for one user may not be the best for another. Download a couple of these apps and try them out before deciding on one to keep. Do you have a favorite weather app?
Image courtesy of Flickr
[cf]skyword_tracking_tag[/cf]
Comments
comments