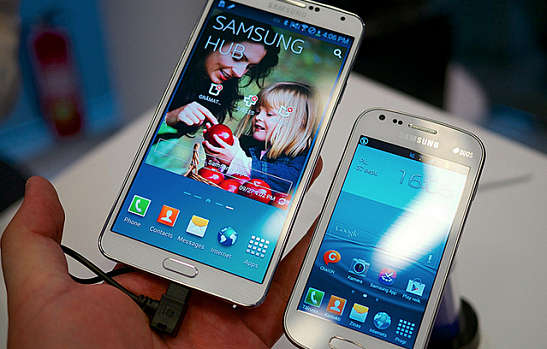 At a recent developers conference, Samsung demoed a feature that is in development for its line of smartphones and tablets: Samsung Flow. CNET reports that this new feature is aimed at improving device interoperability for users who own more than one Samsung product, and it will work similarly to the "Handoff" feature Apple debuted on the new OS X Yosemite version.
A Three-Pronged Approach
One element that will set Samsung Flow apart from other device continuity features is its three-part system, which separates device continuity into three distinct categories: transfer, defer, and notify. Transfer allows users to "send" open tasks—for example, a map with directions outlined—from one device to another. Defer works nearly the same way, but instead of an instant transfer, users can send a task to another device for later use. Finally, notify displays things like low battery or missed call alerts on other devices. If a user's phone rings in an upstairs bedroom, they would be able to see a notification on the Samsung tablet in their lap.
Creating a Connected Home and Office
Though Samsung Flow has not been released for consumer use yet—developers have only just gotten their hands on this new tool—it could have some exciting prospects for creating a truly connected home. Though the functionality has been demoed using phones and tablets, it could be a game changer if it is extended to Samsung TVs and smartwatches. CNET reports that Flow is Samsung's response to Apple's Handoff technology, which has been improving iOS and Mac integration in recent months. The company is preparing to release the first wave of HomeKit-enabled devices, which will exponentially increase the number of potential uses for this capability.
Does a system that connects all your devices seem appealing to you? Would you buy more products from a single company if they all worked together?
Image courtesy of Flickr
[cf]skyword_tracking_tag[/cf]
Comments
comments