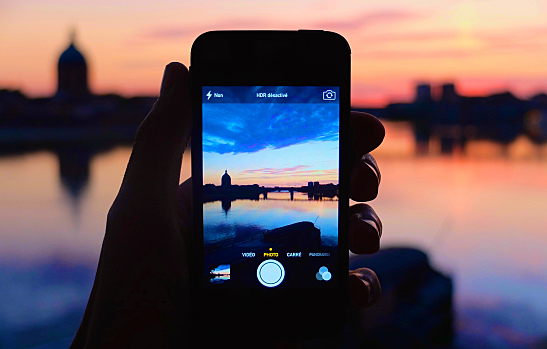 Taking photos with mobile devices used to be a last resort, perhaps for when the user's primary camera ran out of battery life. But Business Insider reports that as smartphone cameras have continued improving, so have the photography apps on the market. Since the days of blurry, out-of-focus shots are gone, here are three of the best iPhone photo apps for users who want to take high-quality pictures on their devices:
Camera+ ($1.99)
Hate the iPhone's built-in camera app? With Camera+, users can manually set things like focus and exposure independently by dragging specific tool icons onto the screen. Users can also manage white balance, shutter speed, and ISO settings. Though this app is designed more for professional photographers, casual shutterbugs will have fun playing around and perhaps learning a bit about advanced photography techniques in the process. The app isn't free, but it has enough features to justify its modest $1.99 price tag.
Manual ($1.99)
While Camera+ is fairly user-friendly, Manual is 100 percent designed for the photography pro. It features a variety of options that allow users to adjust shutter speed, ISO, white balance, focus, and exposure compensation. The app is simplistic and doesn't include a lot of bells and whistles, but it does offer a live preview of an image with all the settings in place before taking a photo and saving it to the Camera Roll. This app also costs $1.99, but it is a great option for users who know what they're doing and don't need tools or widgets to get the perfect photo. One small caveat with this app: it requires iOS 8 and will not work on phones that do not have this latest operating system from Apple.
ProCamera 8 ($3.99)
At $3.99, ProCamera 8 is the most expensive iPhone camera app on this list, but for good reason. This app boasts plenty of sophisticated features, including over 70 filters and the ability to set exposure time, tint, ISO sensitivity, and more. Despite its advanced nature, casual photographers will still get a lot of use out of the versatile ProCamera 8 app. It has received numerous awards and was singled out by Digital Trends as one of the best iPhone photo apps on the market.
All these camera apps help users get the most out of their iPhone camera's hardware. Though the iOS 8 camera certainly is capable of creating great pictures, these apps make great pictures even better. Have you ever used a third-party camera app on your iPhone? Which of these best iPhone photo apps is your favorite?
Image courtesy of Flickr
[cf]skyword_tracking_tag[/cf]
Comments
comments