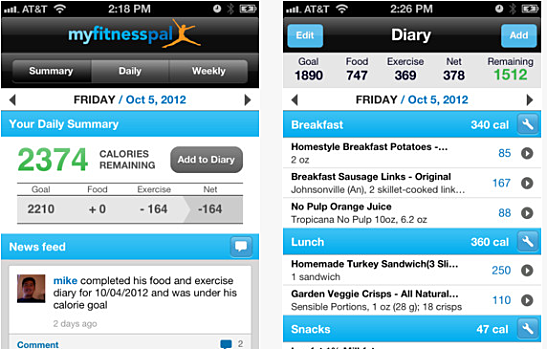 Health-tracking apps are incredibly popular—there are more than 40,000 are available for download in the Apple iTunes store alone, each one purporting to offer some significant benefit. But do these apps really pull their weight and offer a solid, science-based approach to your health, or are they nothing more than mobile smoke and mirrors?
You Are What You App
FitBit and MyFitnessPal are two of the most popular health and wellness apps on the market. Both track calories and claim to help users develop a healthier lifestyle, but as noted by Medical News Today, many of these apps lack the "lifestyle-based strategies for weight loss" common to traditional weight loss plans. What's more, researchers found that many programs labeled as "health" apps don't actually provide any information that directly impacts users' well-being. Some research suggests that calorie-counting and similar apps can be beneficial in combination with other efforts such as regular exercise and dietary changes, but the jury is out on the effectiveness of standalone apps.
In Demand
According to a recent eWeek article, one growing market for healthcare-tracking apps is among parents. While 70 percent of mothers are interested in wearable baby monitors and activity trackers, Julie Michaelson of BabyCenter told eWeek that "as health and wellness apps become more automated in their data collection . . . more moms and families will definitely start to use them." For example, mobile giant Apple recently rolled out its Health app for iOS, and MacRumors reports that Microsoft is following suit with a fitness band that will work with Apple devices. iOS users have spotted an app called "Microsoft Band Sync" in the app store, indicating the release isn't far away.
Bottom line? Health apps are quickly moving beyond just calorie counting as they integrate with wearables, prompting even greater consumer interest. Cloud-based data storage, meanwhile, suggests a not-too-distant future where health information collected by apps is an integral part of a doctor's diagnosis or treatment regimen.
Health or Harm?
So what's your best bet for managing your weight, getting fit, or changing your lifestyle? Should you opt for a health-tracking app or take a pass?
Ultimately, it all comes down to moderation and good sense. One-off apps for calorie tracking are useful in combination with wearables or other lifestyle changes, but they can't do the job alone. Live Science reports on new apps like KiQplan, which combines the data from wearable devices and health apps to develop a 12-week personal fitness plan. This kind of holistic approach is closer to the kind of fundamental lifestyle changes encouraged by traditional fitness plans and may help to take the guesswork out of using application data. Calorie counts, sleep data, and meal plans offer some benefit in isolation but are much more effective in tandem. It's also worth mentioning that the kind of data collected by apps is quickly becoming more complex. Medical News Today reports that there are several applications in development which purport to detect epileptic seizures or identify signs of jaundice in babies.
Want the latest in health tracking apps or combination wearables? You're not alone. And while these apps won't harm you, good health isn't guaranteed with your download.
Do you use a health app to lead a healthier lifestyle?
Image courtesy of Flickr
[cf]skyword_tracking_tag[/cf]
Comments
comments