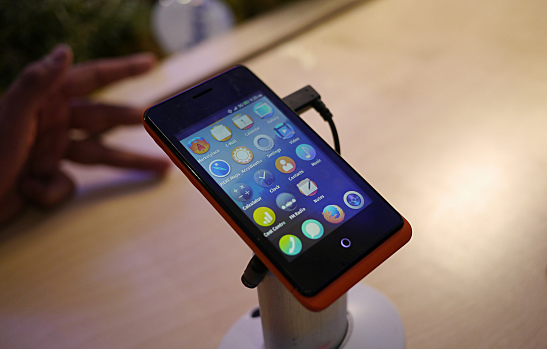 Mozilla is known for targeting developing countries with its phones, but Engadget reports that the company has set its sights on a big player. Mozilla has paired up with KDDI to make the first Firefox phone for Japan, and it definitely stands out from the crowd. This will also be a first for Mozilla, as the phone—known simply as the KDDI FxO—will be the first Firefox OS phone with both near-field connunication (NFC) and long-term evolution (LTE) technologies.
NFC and LTE
Up until now, Mozilla's stripped-down phones have provided all the basic functions users could expect from a smartphone, but without the high price tag. "Mozilla launched Firefox OS in 2013 to provide a low-cost alternative to Google's Android and Apple's iOS," says CNET, and it's had a fair bit of success in emerging markets such as India.
The first Firefox phone for Japan will come with an NFC and LTE chip, which means the phone can hook up to the fastest mobile Internet speeds and can even be used as an electronic wallet with the proper software. Even though exact pricing hasn't been revealed yet, the device is expected to cost a bit more than typical Mozilla phones, especially since CNET reports both Mozilla and KDDI are referring to the KDDI FxO as the "first high-spec Firefox OS smartphone."
The Phone Itself
In addition to the NFC and LTE capabilities, users will notice another distinguishing feature right off the bat: The KDDI FxO is transparent. The casing for the phone is clear, meaning that the battery, circuits, and chips are all readily visible at all times. According to Engadget, the phone has a quad-core 1.2 GHz Snapdragon 400 processor that's complemented by 1.5 GB of RAM. This is all nestled underneath a 4.7-inch IPS display. The phone will also have about 16 GB of internal storage and can provide nine hours of talking time with a full battery.
While the phone will only be released in Japan, this news means that Mozilla is no longer limiting itself to budget phones and emerging markets. The company is branching out into more advanced territory, and it might not be long before a premium Firefox phone is released in the United States. Would you like to see a premium Firefox OS phone?
Image courtesy of Flickr
[cf]skyword_tracking_tag[/cf]
Comments
comments