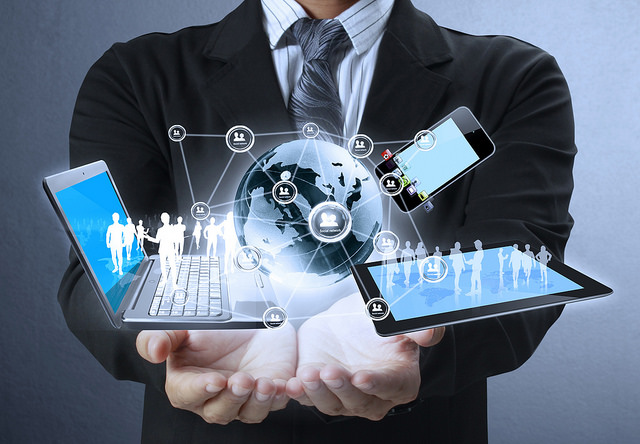 Mobile devices are changing how people live and how brands conduct business. By 2015, according to Cision, the number of smartphones in use globally will reach two billion. This will increase the time people spend on social media and ultimately accelerate their consumption of online content.
Here are three mobile trends expected to continue to grow in 2015.
Mobile Payments
The relationship between you and your financial institution is, more often than not, occurring in real time and on a mobile device. As of December 2013, more than 50 percent of U.S. banks already offered some form of mobile banking, according to the Financial Brand. The launch of Apple Pay has encouraged many big banks and credit card companies to partner with Apple so they can offer a simple method for making purchases at the checkout counter.
With Apple Pay opening up more ways to pay via mobile, this is one mobile trend to look out for next year. Expect to see a big shake-up in consumer payments as more people use their smartphones to improve their shopping experience inside the store.
Fun Experiences
Fleming Europe predicts that by 2015, 70 percent of global 2000 organizations will have at least one game-oriented application, and 40 percent of global 1000 organizations will use it to transform their business operations. By 2015, applications incorporating the idea of status and achievement will be worth $1.25 billion, and that market will reach $5.5 billion by 2018.
Ultimately, "gamified" experiences will integrate social media with the already growing wearable computing field. Game-like applications that add real value to their users' experiences will include intuitive and balanced designs, as well as behavioral sensibility that aligns with core business objectives.
Wearable Tech
A variety of wearable devices launched in 2014. From smartwatches to fitness trackers, there has been an explosion in wearable technology options, and the trend is expected to continue in 2015. The highly anticipated Apple Watch, slated for store shelves early next year, is already garnering interest and should help bring wearable tech into the mainstream.
At the moment, growth in the health and fitness industry is largely being fueled by apps and other portable fitness trackers. As the cost of these devices comes down, expect them to become more common. Wearable electronics that come with data analysis via apps and services will offer consumers a new way to combine personal preferences with social information.
What mobile trends do you expect in 2015?
Image courtesy of Flickr
[cf]skyword_tracking_tag[/cf]
Comments
comments