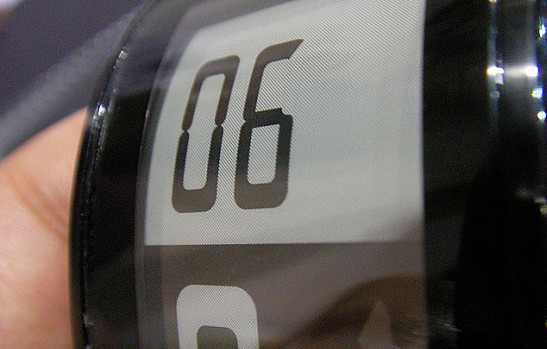 The Lenovo VIBE Band VB10 is the first wearable from Lenovo, and it's coming onto the wearables scene sporting a simple yet functional design. Announced during last week's 2015 Consumer Electronics Show (CES), it's definitely far closer to a fitness band than a smartwatch, since it sports a sub-$100 price tag and features simplified apps. The watch is set to hit shelves overseas in April, but there is no word yet on when it will arrive in the United States.
The Bare Bones
Just like other smartwatches, the $89 VB10 connects to an Android smartphone via Bluetooth and displays notifications on its screen. This makes checking messages a cinch when exercising, allowing users to keep their phones in their pockets while running or biking. However, PCWorld reports that "in a demo at CES, the Vibe Band only showed notifications for missed calls, e-mails, SMS, and Twitter, with no other third-party apps supported. There seems to be no way to expand the VIBE Band's functionality beyond what comes in the box."
The casing is made of plastic and ties to the wrist with a rubber strap. Users can toggle through notifications, calories burned, and steps taken by using the three buttons on the side of the watch face, though PCWorld reports that having to scroll through so many aspects of the menu can make checking notifications a hassle for users. There's also a micro USB port on the side for charging the Lenovo VIBE Band VB10's battery, which lasts up to seven days on a single charge.
An E Ink Display
The extended battery life is largely thanks to the 1.43-inch, 296 by 128 pixel display. Lenovo may be a newcomer to the wearable game, but "it goes in a totally different direction than what we see from the other players, as it's distinctively different for packing along an E Ink display," according to Phone Arena. Just like the displays on older versions of Nook and Kindle e-readers, the watch display is 100 percent E Ink, a technology that provides easier reading in high light and requires less battery power. This also means that navigation lags a bit, as E Ink needs to refresh every time it loads a page.
The Lenovo VIBE Band VB10 is a cheap option for Android users looking at smartwatches. The device is scheduled to be released in Russia and China in April.
Would you be interested in purchasing the VIBE Band VB10 if it were sold in the United States?
Image courtesy of Flickr
[cf]skyword_tracking_tag[/cf]
Comments
comments