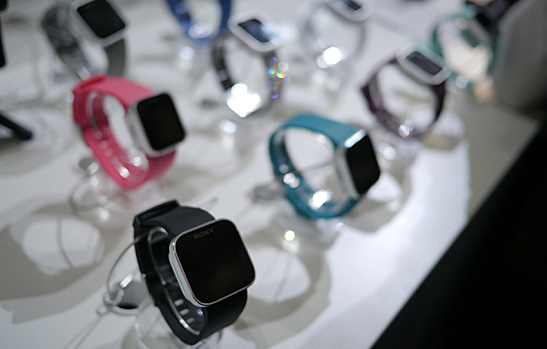 Smartwatches have mostly been add-ons for smartphones rather than stand-alone devices, but the reveal of the GoldKey Secure Communicator at the 2015 Consumer Electronics Show (CES) proved that a smartwatch can be a powerful and functional device on its own. Users can download apps directly to the watch, make calls, and access cloud storage securely without the aid of a smartphone.
Working the Watch
On a basic level, the watch functions like any smartphone. It requires a standard SIM card to work on a network. Mashable reports that simply taking the SIM card out of an existing phone and putting it into the GoldKey Secure Communicator will make the watch operational. Once started, the watch allows the user to take photos, listen to music, use messaging services, make phone calls, and install apps. Since the watch runs on Android KitKat, GoldKey reports that users can simply download apps from the Google Play Store.
The device is also designed with strong security standards, which is logical considering that GoldKey is primarily a security company. Having GoldKey security makes the watch a "dual-factor authentication device featuring secure e-mail, encrypted cloud storage, and fully supporting Gold Pay," according to GoldKey's press release. The addition of Gold Pay functionality means that the watch can be used to store and pay with credit card information in a way similar to Apple Pay.
Specs and Pricing
Externally, the Secure Communicator has a 1.54-inch touchscreen with a 240 by 240 pixel resolution, according to CNET. The watch itself comes with a 5-megapixel camera that can take HD video. It is powered by a dual-core processor and has a built-in Wi-Fi hotspot, GPS, and a battery that runs for up to 24 hours on a full charge, according to Mashable. CNET reports that the device is available with two separate payment methods: one flat fee of $400 for just the watch, or $200 with a monthly $20 payment for access to GoldKey's premium security options, which include special communications services between members.
The GoldKey Secure Communicator is available now, and the reveal sets a nice standard for other smartwatch-makers to aim for. What other functionalities would you like to see in smartwatches?
Image courtesy of Flickr
[cf]skyword_tracking_tag[/cf]
Comments
comments