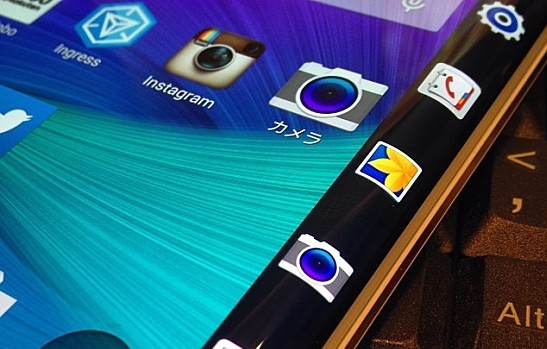 It looks like not just one, but two models of the Samsung Galaxy S6 will succeed the flagship S5. CNET reports that Samsung will release a standard S6 model, along with a second, curved-edge model similar to the Samsung Galaxy Note Edge. While the union of the Galaxy S series and Galaxy Note series is definitely something worth looking forward to, the traditional version of the S6 is coming with a few firsts for the Galaxy S series.
The Versions
According to CNET, Samsung "will reportedly roll out one model with a metal design, a change from the usual plastic." Samsung has been criticized for using plastic on its premium phones, which gives the devices a cheap feel when compared to the metal cases on competitors like the iPhone and HTC One. The Galaxy Alpha series was the first set of phones from Samsung to have metal bodies, and it looks like the trend is spreading over to the flagship. CNET reports that the manufacturer has not yet announced whether the phone will be unibody or not, though a leak last week did indeed reveal a unibody frame.
The second version of the Samsung Galaxy S6 will have a secondary screen built into a curved edge, like the design of the Samsung Galaxy Note Edge. The Note Edge received a limited release last year, and Business Insider reports that Samsung will follow a similar strategy with the S6, initially only producing 10 million units of the device to determine whether there is enough demand to mass produce it. The secondary screen is used to display notifications, information from widgets, and other data separate from the main screen.
The Rumored Specs
While it is uncertain whether specs will differ between the two versions, rumors so far have shed a bit more light on the Samsung Galaxy S6, or Project Zero as Samsung has code-named it. Rumors indicate the phone will come with Android 5.0 Lollipop, a 20-megapixel camera, and a 5.5-inch Quad HD display. The primary screen will have a 1440 by 2560-pixel resolution, though the resolution of the curved screen is unknown.
This is the kind of rumor everyone hopes ends up being true, because it's a step in a new direction for Samsung. The truth might come out sooner rather than later, as CNET reports the Samsung Galaxy S6 will likely be revealed at Mobile World Congress in February.
What other features would you like to see in the Samsung Galaxy S6?
Image courtesy of Flickr
[cf]skyword_tracking_tag[/cf]
Comments
comments