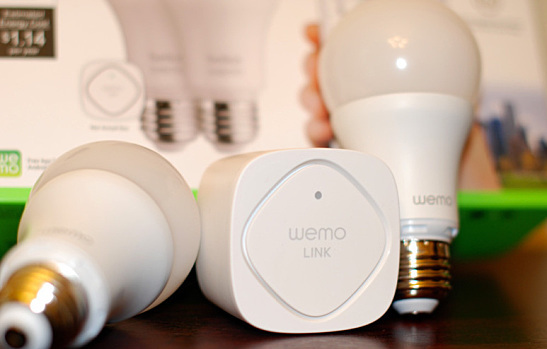 Smarthome technology is on the rise. Consumers want the power to control every aspect of their comfort and entertainment experiences while logging real-time data on what's happening in their house. Here are five of the best new home devices to help simplify your life.
WeMo
Created by Belkin, WeMo lets you take direct control over any appliance in your home on a case-by-case basis. The WeMo Insight Switch is a small, wireless-enabled wall plug that makes anything with a power cord controllable via your Apple or Android phone. For example, if you plug your coffee maker into a WeMo outlet, you can use the app to set a brewing schedule or turn it off remotely if you forgot before leaving the house. Belkin also produces a selection of WeMo light switches, light bulbs, and other electronics that can be controlled by the app via Wi-Fi or a 3G or 4G connection.
Control4 MyHome
The Control4 system is fairly straightforward: a central hub communicates with the 4Sight app to manage any wireless-enabled device in your home. This means that from a single tablet or smartphone you can turn on lights, monitor security systems, or even turn off video game consoles if the kids don't listen when you tell them it's bedtime. The idea here is to give you a fully functional set of home controls that you can customize on demand.
Generac Mobile Link
Have a generator? Then you need to make sure it's working in case of an emergency. New generators have self-diagnostics that alert you to potential problems, but you must be close enough to read the LED display. Mobile Link solves this problem with a combination sensor and app; if the generator experiences a failure or needs service, it can notify both you and an authorized dealer that the unit requires service. This is a great option for anyone who travels on a regular basis and doesn't want to wake up wondering if their generator is still running when they hear news of a big storm heading toward their neighborhood.
Connected by TCP
TCP's system is all about lighting. For $50 you get two LED bulbs, a controller, and a smartphone app to manage your custom settings. According to Consumer Reports, the 12-watt LEDs were comparable to 60-watt incandescent bulbs when tested, and the bulbs can be "grouped" for easy on/off programming. The system also allows you to set a bulb's brightness at the point it's switched on, with lights that scale up and dim easily. You can program and reprogram lighting plans on the fly, such as when exterior lights turn on at night or in kids's rooms when they need to wake up in the morning.
Schlage Sense Smart Lock
Tired of opening your door lock with a key? Popular Science reports that Schlage presented the answer at the 2015 Consumer Electronics Show (CES): a voice-activated lock that is compatible with Apple's HomeKit. Simply speak into your iPhone and the door will unlock, meaning you don't need to fumble for keys or remember a passcode. What if your iPhone dies or you've left it inside? No problem. The Schlage Sense also supports traditional key and keypad entry to make your life as simple as possible.
Life is getting easier thanks to new home devices. What are your favorite time-savers?
Image courtesy of Flickr
[cf]skyword_tracking_tag[/cf]
Comments
comments