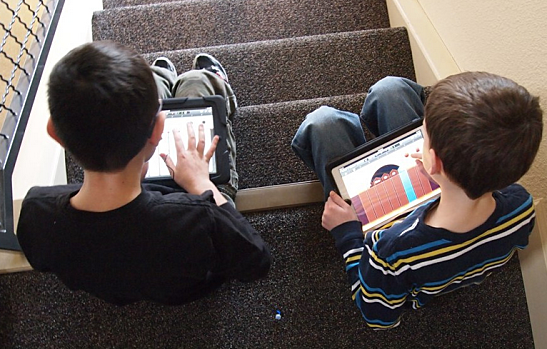 Does your child love playing new games? While there are hundreds of quality learning apps on the market, these six represent the best new educational apps to play with your iPhone or iPad.
Sago Mini Fairy Tales ($2.99, iOS)
Sago Mini Fairy Tales is the latest in a series of exploration apps by game developer Sago Sago. Children take on the persona of Jinja the Cat, who is embarking on an adventure to explore a fairy tale world. The game is easily controlled by small children, who can point and drag Jinja to various locations in the fairy tale world and interact with different characters and items they find. This app is all about creativity and exploration, and it encourages toddlers and preschoolers to look for patterns. Young children will also enjoy creating their own "stories" within the make-believe world of the game. Recommended for kids ages 2–4.
Thinkrolls ($2.99, Android and iOS)
This logic puzzle may look cute, but beneath its pink and yellow exterior is a game that challenges elementary school-age children to think critically and test their memory. Kids will learn basic physics concepts like force, acceleration, gravity and more as they navigate through a series of mazes. Plus, the 18 adorable Thinkrolls characters that kids can use for each level are so cute, it's hard to resist playing another round! Recommended for kids ages 3–9.
Mickey's Magical Math World (Free, iOS)
Mickey's Magical Math World is the first in a planned suite of apps that will fall under Disney's educational "Imagicademy." This app collection will allow children to unlock rewards in different subjects and give parents the ability to track their child's progress. Math World features matching activities that teach counting, geometry basics and simple calculations using familiar characters from the Mickey Mouse Clubhouse TV show. Though the app itself is free, several of the games within the app need to be unlocked via an in-app purchase. Recommended for kids ages 4–7.
Toca Kitchen 2 ($0.99, iOS)
Toca Kitchen 2 is a creativity-focused app that allows children to mix and experiment with kitchen ingredients to create interesting dishes. Kids can chop vegetables, blend fruits and even use different heat sources to channel their inner sous chef. This app won Apple's Editor's Choice award for children's apps. It is great for young children developing their fine motor skills, but also for older kids who want to learn about different foods and experiment with them in a digital space. Toca Kitchen 2 even has a vegetarian setting for herbivores. Recommended for kids ages 3–7.
Odd Squad: Blob Chase ($0.99, Android and iOS)
This fun game features familiar characters from the PBS Kids series Odd Squad. It challenges school-age children to solve addition, subtraction and multiplication puzzles to activate special gadgets that will help the Odd Squad deal with a blue, gooey menace. Recommended for kids ages 6–8.
Star Walk 2 ($2.99, iOS)
Do you have an older child who wants to learn about the universe? Star Walk 2 gives kids a virtual planetarium in their pocket that shows them stars and planets. It also provides information about when these celestial bodies are visible, what constellations they form and even the myths surrounding them from ancient times. The app's simplistic interface and easy-to-understand narration makes it a great introduction for school-age children to the world of astronomy. Recommended for kids ages 9–12.
Though these six examples represent some of the best new educational apps for children on the app store, there is certainly more to explore for both kids and parents. What is your favorite app to use with your children?
Image courtesy of Flickr
[cf]skyword_tracking_tag[/cf]
Comments
comments