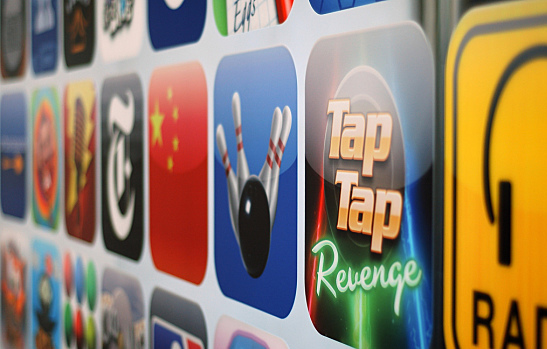 Apps like Trivia Crack and Uber rose to popularity last year, but with over two million apps available across the Apple and Android app stores, it's easy to let some gems fall through the cracks. Here's a look at some of the best undiscovered apps of 2014.
Snowball (Free, Android)
Viber, WhatsApp, Line, Hangouts, Snapchat, WeChat — there are a wide range of SMS alternatives available. Users have to hop from app to app whenever a new notification comes in, and that gets old really fast. Enter Snowball, the app that acts as a hub for all of your messenger services. Whether it's your phone's stock SMS application or any of the aforementioned chat services, this app collects all incoming messages and displays them in one inbox, making answering messages quickly a cinch.
PhotoMath (Free, iOS and Windows)
With PhotoMath, kids can simply take a picture of a math problem with their smartphone, and they'll be shown a step-by-step breakdown of how to solve it. PhotoMath can recognize simple arithmetic, fractions, powers/roots, and even linear equations, making it an excellent study tool for students. The only potential drawback here is that the app gives the answer to the problem, so kids who are not being supervised may be temped to copy the app's work.
WeTransfer (Free, Android and iOS)
Tired of being limited to sending 26 MB of data in a single e-mail? Enter WeTransfer, a data transfer service that lets you send up to 10 GB of files for free. Simply enter your e-mail address, the address of your recipient, select your files, and hit send. Your recipient will receive an e-mail link to access the items for download. The app works on both Android and Apple operating systems, but the Android system's interface provides those users with an extra perk: They can select WeTransfer's "Share" icon from any app, making file sharing that much easier.
FireChat (Free, Android and iOS)
FireChat is an app that lets you send messages to any smartphone within a 30-foot radius, even if you don't have cell reception or the recipient's contact information already stored in your phone. The app functions like a chat room: Users can create "firechats" to talk to other fans of a band whose concert they're attending, for example. Users can select the "Nearby" option to see what's going on in their area.
While FireChat has somewhat limited usefulness normally, it played a big role during the Hong Kong protests, during which telecommunication companies shut down cell service in the area. Gizmodo reports that "Hong Kong protesters used FireChat's mesh networks—the offline tech that makes chatting with anyone nearby possible—to send messages" outside of the dead zone.
With over 2.5 million apps available between the Apple and Android app stores, there's no way to know them all. But these four are the best undiscovered apps that you shouldn't pass up.
Tell us, what other apps would you add to this list?
Image courtesy of Flickr
[cf]skyword_tracking_tag[/cf]
Comments
comments